one of many scenic views within Mission Trails Park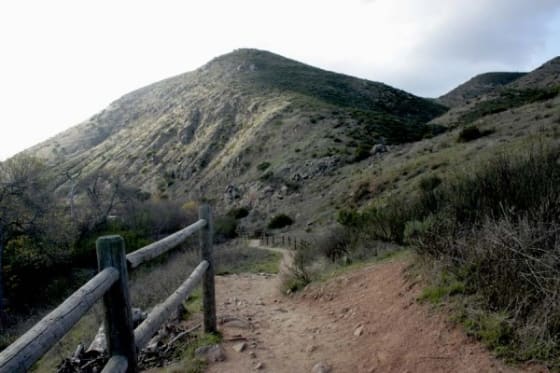 San Diego, vast and varying in terrain, is the perfect city to hike away your worries. San Diegans are very active, and although hiking is not for everyone, it is considered a major pastime to some. The following list entails some of the five "best" San Diego hiking trails and natural parks:
1) Cowles Mountain- located in the neighborhood of San Carlos (about twenty minutes east of Mission Valley), Cowles Mountain is perfect for a weekend workout. The trail is about a mile and a half high but steep enough to leave you panting. This is a favored running trail, as it is both beautiful and arduous. It is recommended to park on the street and walking to the trail head because theft is always a possibility in the main parking lot.
2) Mission Trails Park- covering over 6,000 acres, Mission Trails Park compares to any state park. There are an abundance of trails from paved walking trails to actual rock climbing spots. The park is dog friendly, and again, huge.
3) Tecolote Canyon Natural Park- located behind the University of San Diego (go Toreros!), the canyon is simple but great. Entering through the Nature Center is the best choice, as one can start your jog or hike on low impact gravel and work past the golf course and school to steeper hills (about 6) and a more challenging trail. Because the trail is mostly flat, it is perfect for novice mountain bikers.
4) Scripps Coastal Reserve- hidden in residential La Jolla, the UCSD owned Scripps Coastal Reserve is probably the least rigorous hike on the list. In fact, it is not a running trail but is rather meant for brisk walks and taking in gorgeous ocean views. The scenery is truly stunning, with views of some mythical (and huge) La Jolla homes. The best time to go is, without a doubt, at sunset.
5) Florida Canyon- great set of trails, however short, that run next to the I-5 freeway and actually cross Balboa Park. Florida Canyon is perfect for running and biking. The hike from Morley field, through Florida Canyon, into the Florida Canyon Nature Preserve, and finally into Balboa Park is great. The "canyon" title comes from a set of fairly steep hills between Morley Field and the Nature Preserve. Abundance of sagebrush.