The Rosecrans Street facade of The Pearl Hotel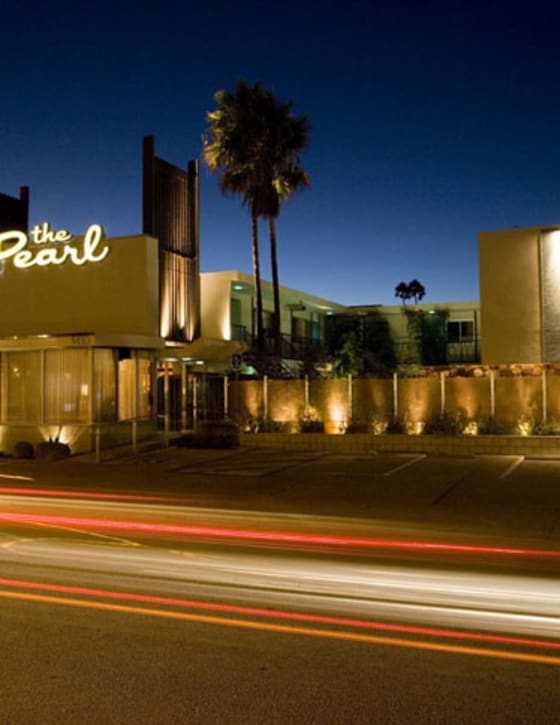 The Pearl Hotel is one of those unique places in San Diego that pervades the city's eclectic, progressive, and nostalgic vibe.  Passing by the unassuming strip malls, Starbucks, and fast food joints that compose Rosecrans Street , it may seem like an unlikely spot for a boutique hotel.  In fact, there are several hotels in this area that appear to have seen better days - but perhaps that was back in the seventies when they were designed.
On the surface The Pearl is a hotel - a hotel that could have been used on the set of an early James Bond film.  The underlying theme, however is that the hotel is a sustainable project of San Diego entrepreneur and Pearl Owner Greg Strangman.
Strangman owns and operates LWP Group, which stands for the acronym for Live Work Play.  LWP is involved in the acquisition of older buildings in San Diego, which the company refurbishes in a completely sustainable and sleek manner.  Strangman is also actively involved in nonprofit work, as seen in his San Diego nonprofit Community Gives.  Community Gives is geared towards education, arts, and culture for San Diego youths.
As part of their check-in procedures for guests, The Pearl suggests that one dollar a day be donated to Community Gives.  This donation is totally voluntary, but ultimately benefits an important community nonprofit.
The Pearl is completely original to San Diego.  Upon initial view, the classic mother-of-pearl cursive lettering adorning the Rosecrans two-story retro lodging - which is surrounded by palms on all fronts - provides a glimpse into a more sophisticated era. It's front glass facade creates the illusion of a fish bowl, which is a necessary accessory to the swimming pool.
Not only is this a hotel, where rooms are designed in a streamlined, chic, modern fashion, but also a restaurant, bar, and movie theater.  Yes, a movie theater.
One of The Pearl's favorite amenities, the "Dive-in Theatre," a screen which is located to the northeast side of the swimming pool and bar, is one-of-a-kind in San Diego, and perhaps southern California.  The Dive-in Theatre derives its name from the fact that guests can swim while taking a flick, or having a drink.  Another thing - admission is free to all movies, which range from cult classics, comedies, and season-oriented films every Wednesday night at 8 pm.  During October, The Dive-in Theatre is showing the 80s classic Rad, Audrey Hepburn's Breakfast at Tiffany's, Donnie Darko, and Tim Burton's Edward Scissorhands and Beetlejuice.
The Dive-in Theatre: quite the pool party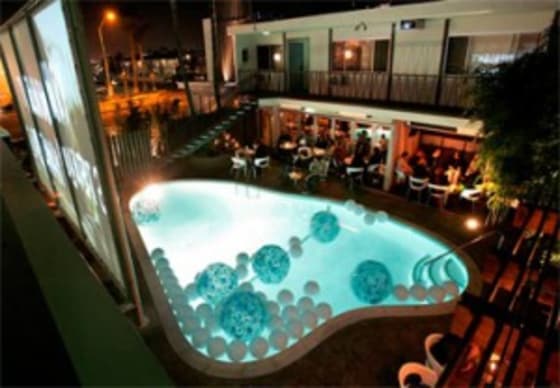 "This is one of the first in San Diego," says Pearl Marketing Director Danielle Munn of the Dive-in.  "We serve specialty cocktails that coincide with the movie, so the theater is fantastic for drinks, date night, or to get together with friends."
Since the Dive-in is such a popular facet of the hotel, and is adjacent to the restaurant, bar, and swimming pool, it is encouraged to make reservations for parties larger than six.
Continuing in the realm of film, the Pearl also hosts a documentary night on the third Thursday of every month.  In showing these documentaries, The Pearl teams up with various business partners operational in San Diego.  In honor of All Hallow's Eve, The Pearl has partnered with Zombie Industries, a San Diego-based production company, for the month of October.
Adding on to the activities, The Pearl hosts a bingo night the last Thursday of every month (check in 9 pm, begins at 9:30 pm).  Bingo prizes include happy hour deals, free one night stays, meals, and lots of other great swag.
Further utilizing the restaurant and bar, The Pearl will be hosting several other events in October and November.  One event, "Hops 'n' Heels," which is catered towards San Diego women, will entail four desserts provided by Azucar (Ocean Beach) paired with Stone Brewing Company beers.  Hops 'n' Heels will be held from 5:30-7:30 pm, and tickets are twenty dollars online.  Another event, BYOB (Bring Your Own Bowl) will be held on Sunday, November 11 from 4-7 pm.  The Bring Your Own Bowl event will include free soup from Mama's Kitchen, where guests receive free soup - provided they bring their own bowl.
The Pearl is also holding their fourth annual pumpkin carving competition on Thursday, October 25, which is a competition where tools/pumpkins are provided, and prizes are doled out to winners.
Whether it involve a relaxed movie night with friends (including the benefit of not having to clean up after everyone), a "stay-cation" at one of their lodgings to break away from the grind, or for some food and drinks, a visit to The Pearl Hotel will surely support a genuinely rare local business, and ultimately benefit a nonprofit organization.
The Pearl Hotel is located at 1410 Rosecrans Street 619.226.6100. The Pearl is also available to rent for weddings, holiday parties, or any other group get together.  For information on availability and booking, email [email protected]