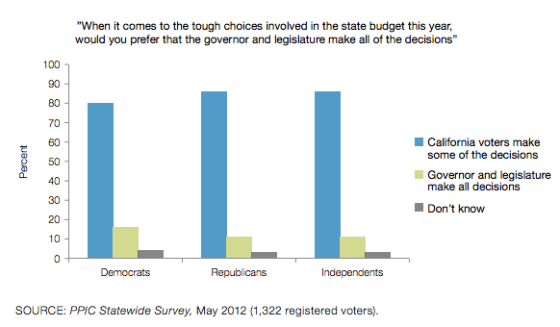 The Public Policy Institute of California released a study on California's voters that concluded: voters are pessimistic and polarized. The most dramatic change in the electorate has been the sudden rise in percentage and number of independent voters and the overwhelming tendency of young voters (ages 18 - 34) to be more liberal on social issues like the legalization of marijuana and same-sex marriage. The study also covered taxes, the initiative process and confidence in local government.
The results of the study showed that there is an increasing partisan divide among Republicans and Democrats on issues like religion, the environment, and immigration. But there were two areas where Democrats and Republicans agree: decisions are better made at the local level, and, the initiative process should be more transparent:
Despite their partisanship, pessimism, and lack of trust, California voters do maintain  some areas of hope and partisan agreement. One of these areas is local government. In contrast to their views on federal and state governments, fewer California voters believe  that their local governments waste a lot of money (38% Democrats, 40% Republicans, 36% independents). On issues as diverse as schools and public safety, Californians express more confidence in local than in state government and wish to see even more authority shifted to the local level. Increase transparency in the initiative process. While voters strongly support the initiative, they give the process mixed reviews, in part because of the impact of special interests and the complexity of the initiatives themselves. The identity and motives of initiative proponents and opponents should be made more transparent during the signature-gathering process, in advertising, in disclosures on voter pamphlets, and on the ballot itself. Other reforms—such as legislative reviews that produce ballot compromises and early legal reviews to head off court challenges—could lead to fewer ballot items and less controversy over outcomes.
The Public Policy Institute of California was established in 1994 with an endowment from William R. Hewlett. It does not take or support positions on measures or candidats. The report does, however, make several policy recommendations including: (1) the need to engage emerging groups of voters: namely independents and latinos, (2) bring more non-partisan information to voters; and, (3) increase the transparency of the initiative process.
//