Fluxx nightclub in downtown San Diego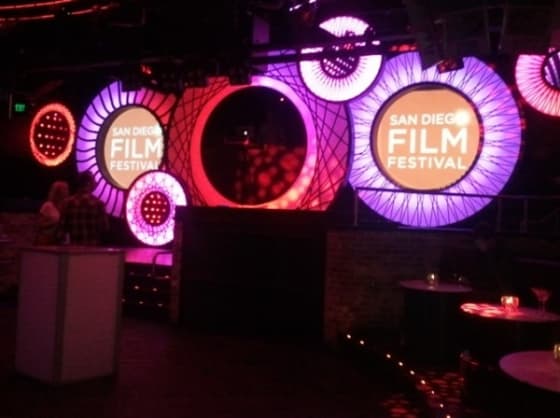 San Diego isn't populated by a slew of celebrities. But when the glitterati come to town – Usher, Cee Lo Green, Pam Anderson, Bruno Mars, Ludacris, LeBron James – the venue they're most likely to visit is Fluxx. Fluxx has been San Diego's "it" hot spot two years running.
Run by the RMC Group and designed by Davis Krumins, Fluxx (500 Fourth Avenue) purposefully has a Las Vegas feel. The phantasmagoric interior changes regularly. The décor has featured faux grass patches, rock gardens and electric-colored paper flowers, and combines offbeat art pieces with scantily-clad go-go dancers who swing from custom rope chandeliers.
Is it the ultimate in San Diego excess? Probably. During the 7,000-square-foot club's opening week, five times a night liquid nitrogen tanks would blast out cooling air to literally white out the wooden dance floor (which vibrates).
And then there was the night New Orleans Saints running back Reggie Bush "made it rain" during a laser light show by tossing 1,000 one-dollar bills into the air.
Want to feel like a VIP? There are three levels of bottle service. A VIP table is where the tabloid media found TV star Ashton Kutcher the night his playboy antics caused actress Demi Moore to call it quits in their marriage.
The shelf life of an "it" club is usually short. Even though Fluxx has been named a top spot two years in a row by the national Nightclub & Bar Media, fame can be fleeting. It wasn't long ago that Stingaree, and before that, On Broadway, were the downtown venues with long lines outside.
Fluxx is only open to the dancing public on the weekends, but management keeps revenue flowing by offering its unique space for special events. Most recently, the club hosted the opening-night party of the San Diego Film Festival. Although there wasn't a swath of celebs on hand, the latest TV Bachelorette couple, Jef Holm and Emily Maynard, walked the Fluxx red carpet that night.
(IVN contributor Ron Donoho is a veteran San Diego magazine editor who currently operates the downtown-centric website SanDiegoBugle.com.)