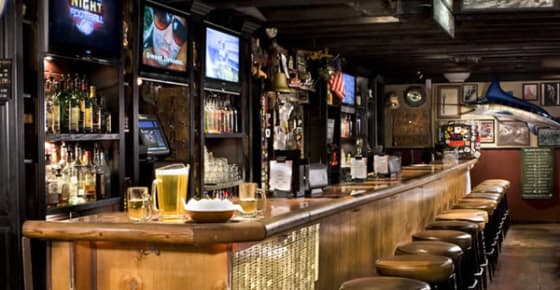 The Waterfront Bar and Grill (2044 Kettner Blvd.) was established in 1933 – significant because that was the year Prohibition (1920-33) was repealed. And that date plays into the running feud in the local bar industry as to whether The Waterfront or Tivoli is San Diego's oldest.
Tivoli opened its doors in 1885. But it couldn't own a liquor license during Prohibition. As soon as it was deemed legal again to serve alcohol in this country, The Waterfront quickly set up shop. It's accurate to say The Waterfront owns San Diego's oldest continuous liquor license.
One of the perks of longevity: The Waterfront is allowed to sell booze to-go.
The bar packs up quickly. And you never know what night might draw a crowd. Forget about squeezing in late on New Year's Eve. Big sporting events will draw crowds looking to get close to a TV while downing a juicy Texas burger (as good as any hamburger served in town).
The Monday-Friday Happy Hour includes $4 well drinks and drafts and $3.75 domestic bottles, plus complementary apps.
Daily food specials (after 4 p.m.) include: $1.50 street tacos (Sunday); 50-cent chicken wings (Monday); $2 chicken and fish tacos (Tuesday); and $2 chipotle hamburger sliders (Wednesday).
Today, The Waterfront is several city blocks from the San Diego Bay, but decades ago it literally fronted the water.
The bar has become iconic. It was deemed an important enough institution to not knock down when developers decided to build condos on the lot. Instead, the condos were build around The Waterfront.
There was a movie made in 1933 called I Cover The Waterfront (starring Claudette Colbert). It was written by Max Miller, who happened to have been a patron at the San Diego bar that today still holds the city's oldest continuous liquor license.
(IVN contributor Ron Donoho is a veteran San Diego magazine editor who currently operates the downtown-centric website SanDiegoBugle.com.)