Credit: Michael Fritz for IVN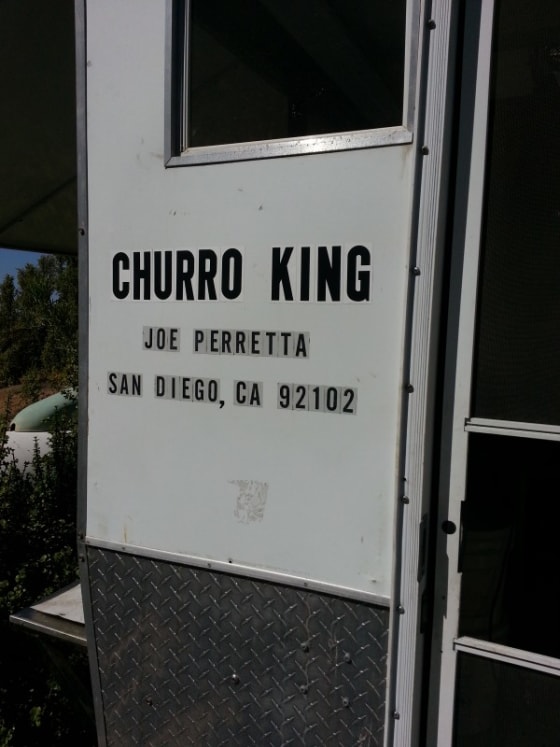 Joe Perretta, a San Diego resident, has spent the last 30 years following a dream: creating an efficient churro making machine named 'the Churro King.' Perretta's fascination with churros started when he was 12 years old after he first experienced the deep fried treats in Tecate, Mexico. He had no idea that experience would turn him into an entrepreneur years later.
"I always had a fascination with churros," said Joe Perretta, 71, a retired automotive instructor from Southwestern College. "I wondered if I could make a machine that could make 10,000 churros in one day. I didn't even know what it was, but I stood in line, I bought them, and I said, 'wow these are good'," said Perretta. "They were 25 cents a bag then, so I got in line again and again."
From then until 1979 Joe Perretta contemplated a machine that would make producing churros more efficient. He was transitioning into a new life, having gone through a divorce, and had just met the woman that is now his wife. Teaching and working a part time job on the side was not enough to support the household. So he turned toward his old fascination, churros, and decided to design a machine that would make it easier to produce the treats. His wife liked the idea and helped start the project by investing some of her own money.
Perretta's idea was to take a trailer to fairs and sell churros as fast as he could make a sale. He figured that taking cash and giving change would give him 15 seconds to make a batch of churros. The trailer that Perretta had in mind had two serving windows, thus needing to make five churros for each window every 15 seconds. Having the fryer and all the equipment to make them in the middle of the trailer would allow him to move from one window to the other easily. He calculated that he would be able to make $400 dollars an hour, which Perretta said was "the kind of money he really wanted to make."
Credit: Michael Fritz for IVN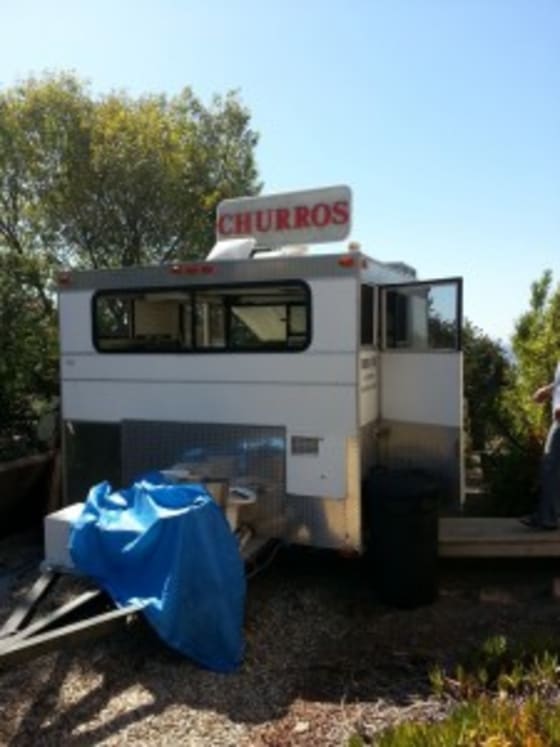 He sold one of his cars in order to scrape up enough money to develop the trailer he was envisioning, and took his cash and blueprints to Jack Holdren. Holdren specialized in trailers and Perretta told him exactly what he wanted. Unknown to Perretta, Holdren was going through bankruptcy. Eventually, Perretta met with Holdren for an update and learned of his financial troubles. Holdren was struggling and could barely pay the rent for his workshop. Perretta, who needed a place to work on his machine, offered to pay the rent and they began to work together.
Building a trailer was not the only obstacle he had to navigate, Perretta also needed to learn how to make churros. So while visiting family in Tecate, Mexico, his cousin introduced him to a churrero (churro maker) Marcelino, who taught him the secrets of mixing the dough.
He soon found that making the dough himself took more skill and muscle than he possessed. Instead of trying to mix the dough by hand he bought a 1920's mixer, modified it, and mixed the dough automatically.
But the project quickly became a money pit, consuming over $15, 000 of Perretta's resources. The trailer was almost finished and his machine was barely in development, Perretta found himself at a crossroads and considered giving up. Perretta was further inspired by a churrero whose arm was swollen from constantly probing and filling his wooden syringe with dough.
"It wasn't about the money anymore, it was really more about helping the churrero, because he's struggled for years. Maybe because I was a teacher, but I really felt like it was my obligation to make the churrero's life a little easier."
Credit: Michael Fritz for IVN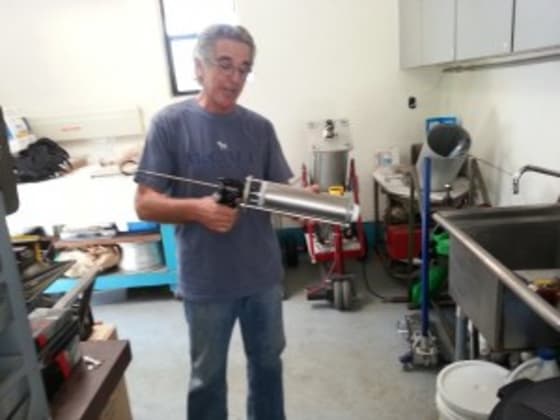 The first step was getting a dough recipe that was easier to push through the hose. According to Perretta, it was the most challenging part in creating the machine. But he needed to find a solution because using a traditional wooden syringe is the hardest part of the churrero's job. While he was still using the trailer version of the machine he tried using a caulking gun in place of a syringe.
He soon found that not all types of churro dough were good for the machine. But with the help of some friends and a lot of time, he perfected a special recipe. The churro recipe they settled on comes from Guadalajara and, despite being very delicious, it is not as greasy as other traditional recipes.
He created a wheel that would cook the churros and deliver them for rolling quickly enough for customers to receive them in 15 seconds. After perfecting the hose, the recipe, and the machine, the Churro King was born. They began selling their churros at parks, fairs, and events, where they could easily make more than $100 an hour.
Perretta quickly began to tire from the fairs. It was still a lot of work, even with the machine. The machine was getting hot within the small trailer and it remained difficult to get the dough recipe right. He decided to sell the trailer, but kept the machine, and worked on improving what he had done in order to make the Churro King more convenient to use.
He looked to his rival, Churros al volante who uses a steering wheel to turn a rack and pinion that pushes the dough into a fryer. They make individual churros and the machine is not portable. Realizing that churreros needed to be portable and efficient he went to the drawing board.
Soon after, Perretta created a machine that is hydraulically operated and runs on a battery. It uses a piston to push dough through a hose into a deep fryer where the churros are cooked before sugar is added. His hydraulic churros making machine can easily produce more than 10,000 churros a day.
A churrera who used both machines reported that the most he ever made with five [Churros al volante] machines was $7,000 in five days. But with only one [Churro King] he made $11,400 in five days.
Perretta also sold one of his machines to a churrero in Durango, Mexico. "He opened up a little shop and last time I heard from him he was selling $150 a day in churros," said Perretta. "To give you an idea, in his town the average worker makes $50 a week."
Credit: Michael Fritz for IVN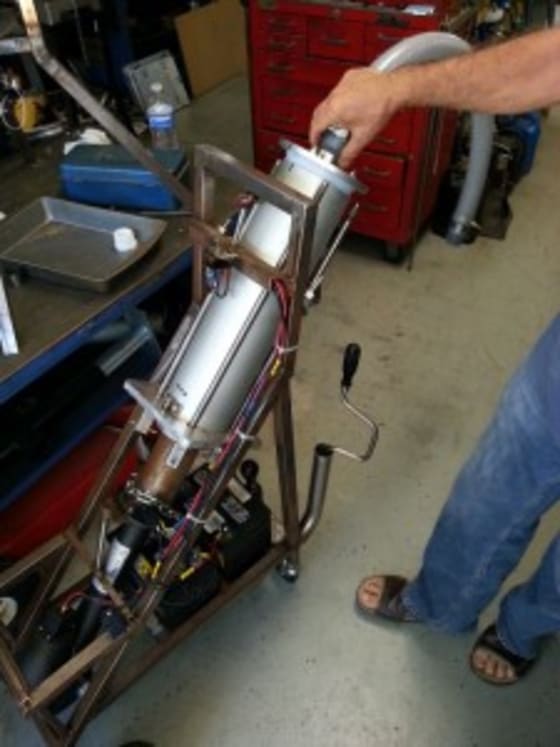 So far Perretta has only sold two of his Churro Kings, so he is working on a sleeker, more portable model. The new model looks like a stainless steel cannon mounted on a frame with wheels. The piston siting inside the "cannon" is powered by vegetable oil which pushes the dough through the hose and into the fryer. It can now produce one-thousand churros per hour. In addition to reducing the weight of the machine Perretta added a wheel that can move left and right to add maneuverability. There are also bolts that the operator can unscrew which allow the machine to be folded up and fit into the back of a vehicle. An extension to the dough hose was added which can be screwed onto a garden hose to help clean the machine.
He says that the new model really focuses on presentation, which Perretta thinks is what is going to help draw in a crowd for the churreras. After all, it is the machine itself, and all the moving parts that will draw the crowd - besides the smell of hot churros of course. After decades of invention and re-invention Joe says, "I'm doing it all for the churrera."