A good burger/beer combo is not exactly a rare find in San Diego, but the places that do it right tend to build up an almost cult following.  Throw a beach community into the mix, some New Zealand surf-shack memorabilia, a rustic indoor/outdoor dining area, plus astro-turf, and  there is Raglan Public House in Ocean Beach.
"Raglan," named after a town with an infamous point break in New Zealand, opened up shop February 3 off Bacon Street in Ocean Beach.  Closely located to the Newport Avenue business district, Raglan is a bit tucked away from the hustle and bustle.  The business model is rather similar to Bare Back Bar and Grill in Pacific Beach, which ultimately opened the Ocean Beach location.  What Raglan has found is obviously working, as happy hour at this place is typically standing-room only (unless you beat the crowd).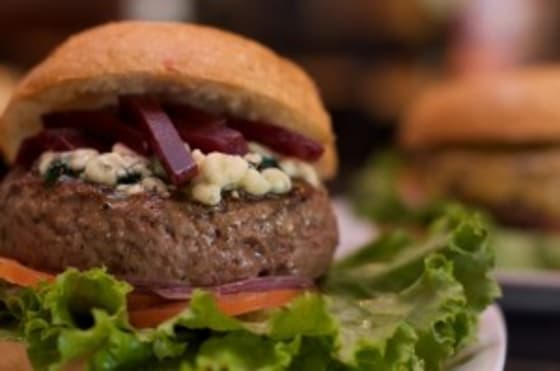 Fusing such Kiwi classics as "chicken on a stick" ($8.50) with endless varieties of that great American classic, the burger, Raglan utilizes 100 percent organic beef in their innovative concoctions.  One can opt for the "bare burger" ($9), which comes complete with lettuce, tomato, red onion, garlic aioli, and is topped off with their signature house tomato chutney.    The current "burger of the month" that keeps with the Oktoberfest theme, contains ground bratwurst in the patty which is delectably placed between two buns of salted pretzel euphoria ($10.90).  Not to mention that it pairs well with a 40 ounce bucket (mug) of Trumer Pils for five bucks.
Down for a bit of adventure? Try the "bare 'lil lamb" ($10.90), a lamb burger dressed with bleu cheese, mint dressing, beetroot, and the basic fixings. The not-so-meat-friendly customer need not to worry, as their salads are fresh and phenomenal as well.
While Raglan places emphasis predominantly on local San Diego breweries like Ballast Point, Coronado, and Stone, their extensive twenty-four tap selection never fails to satisfy a hop head's thirst.  Pints costs anywhere from $3-7, and they maintain a succinct wine selection of New Zealand and Australian wines.
Raglan Public House has taken a concept that is relatively simple, yet obscure, and cultivated a following throughout San Diego.  If the Taco-Tuesday grind is not on the evening's agenda, slide into Raglan Public House for "Taco-less Tuesday," during happy hour for some miniature versions of their completely original burgers.
Raglan Public House is located at 1851 Bacon Street in Ocean Beach (619)794-2304.