Photo: Marc Levine from Levineforassembly.com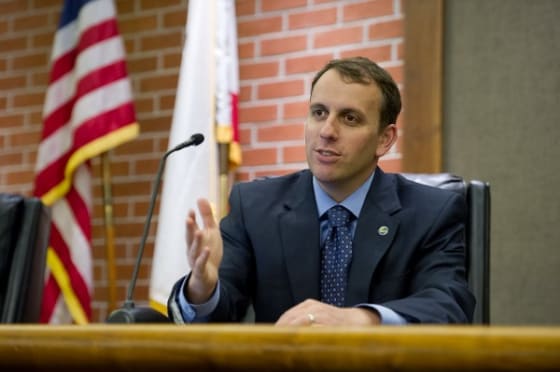 California's new top-two open primary system has caused several candidates from the same party to face off in general election contests across the state. In the California 10th Assembly District race, two Democrats, Assemblyman Michael Allen and San Rafael City Councilmember Marc Levine, are running head-to-head in the general election.
Allen came in first in the June primary with 30.3% of the vote, and Levine took second place with 24.2%. Also of note, Republican Peter Mancus came in third with 21.3%, followed by several independent candidates for the Assembly seat, presenting an opportunity for the candidate who can best reach out to voters outside of the Democratic Party.
According to The Press Democrat, Assemblyman Michael Allen spent five times more than Marc Levine during the primary race. Levine received most of his contributions from San Rafael locals, whereas Allen, a former executive director of a local branch of the Service Employees International Union, enjoyed significant contributions from Democratic interest groups and labor unions. Allen has focused his campaign messaging on the environment and education, while Levine has been reaching out to voters who are concerned about the ballooning costs of public sector benefits and pensions.
Assemblyman Michael Allen moved from the 7th Assembly District to the 10th prior to qualifying for the race. The San Francisco Chronicle is reporting that the Fair Political Practices Commission fined Allen in 2009 for voting in favor of a project in which he had a prior financial interest while serving as a Santa Rosa planning commissioner. The Democratic Party establishment is largely standing behind Allen, who currently serves as Assistant Majority Floor Leader in the California General Assembly.
Without party establishment support, Marc Levine has been reaching out to independents and Republicans. Watch Sonoma County recently reported on a direct mail piece, distributed by the California Democratic Party, which paints Levine, who once campaigned for President Obama, as a Republican for giving a speech at a Romney campaign kickoff event.
However, Levine's appearance was not an endorsement of Romney. "He told the group that he was a strong Democrat, but reaching out to the whole community as the local candidate," said Levine campaign official Leo Wallach.
While the primary result and fundraising reports suggest that Assemblyman Michael Allen is the frontrunner, the Levine campaign recently released a poll of 400 voters by Democratic polling firm, Global Strategy Group, in which Levine took 26% to Allen's 19%. The poll included Republicans, Democrats, and independent voters.