Credit: queenscrap.blogspot.com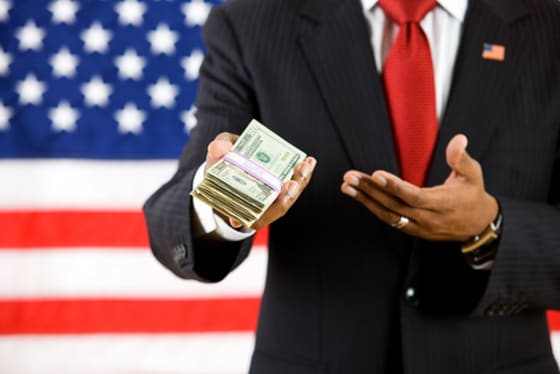 Controversial California Proposition 32 aims to block unions from making political contributions with money deducted from union members' paychecks. Prop 32 is a battleground proposition with well-financed unions fighting to block it and deep-pockets donors, some of them billionaires, working to pass it. As of September 24, donations have reached an astonishing $48 million. No on 32 campaign contributions total $40 million while the Yes on 32 campaign has received $8 million. These numbers, which include independent campaign expenditures, will only grow higher.
Prop 32 is a highly contentious proposition that brings out strong feelings on both sides. In an important exception, it does not block contributions to the independent campaigns known as Super PACs.
Proposition 32 applies to state and local political contributions. Contributions to federal campaigns are not included in Prop 31, as a state cannot mandate rules for contributing to congressional or presidential campaigns. It:
Prohibits unions from using payroll-deducted funds for political purposes. Applies same use prohibition to payroll deductions, if any, by corporations or government contractors.
Permits voluntary employee contributions to employer-sponsored committee or union if authorized yearly, in writing.
Prohibits unions and corporations from contributing directly or indirectly to candidates and candidatecontrolled committees.
Other political expenditures remain unrestricted, including corporate expenditures from available resources not limited by payroll deduction prohibition.
Prohibits government contractor contributions to elected officers or officer-controlled committees.
The language here is potentially misleading as it implies that corporations or government contractors are also blocked from making payroll-deduction contributions. While this is certainly true, the clear fact is unions are the only ones doing so now and thus are the primary target of Prop 32.
http://youtu.be/LezTihQZl0Q
The Yes on 32 website features an emotion-laden video targeting legislators who blocked a bill making it easier to fire teachers, linking it to a teacher who was molesting students. The legislators had received contributions from the California Teacher's Union. Thus, the video explains, politicians were choosing "big money special interests over the people." However, Prop 32 does not stop Super PAC donations. It only blocks payroll contributions from union members without their consent, which is hardly the only form of potential corruption in the political system.
http://youtu.be/4jXXHKDiGd8
The No on 32 website has a video explaining that those exempt from Prop 32 include big oil companies, insurance company executives, Wall Street bankers, hedge fund managers, and Super PACs. This is certainly also true. However, much of the funding for the No on 32 campaign is flowing into Super PACs as well. In addition, the website makes no mention of the crucial issue of union payroll deductions being used for political contributions.
California voters might do best to ignore the barrage of ads from the opposing sides and instead decide their vote on Prop 32 based on the core issue of unions deducting money from paychecks to use for political contributions.