Paddle Boarding In San Diego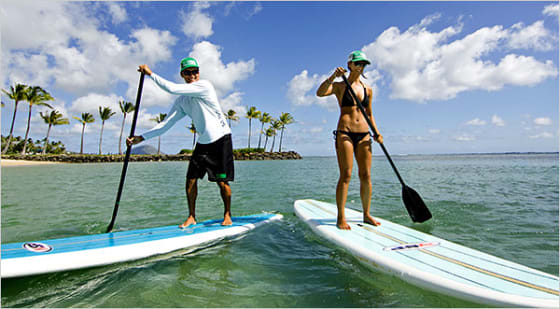 Although this board was originally constructed back in the 1930's, if you had asked the average San Diegan one or two years ago what Paddleboarding was, most would not be able to tell you. But recently one cannot pass by our oceans or bays without seeing active San Diegans paddling their little hearts out.
Paddleboarding equipment consists of one large surf-boardesque board- approximately 12 feet or so long, and a very long paddle. To get an idea of how long the paddle is, one should be able to stand straight, raise one arm completely in the air, and that is how long it should be for you. There are boards for flat water, such as oceans and bays, and boards for the oceans- which generally have more fins to better handle waves.
Beginners usually start out on their knees or even sitting indian style. It doesn't take most people very long to feel comfortable standing. The relative easiness of this sport makes it a popular weekend thing to do among family, couples and friends. Not to mention there is a rental store that supplies these boards and paddles near every large body of water in the San Diego area.
If you are considering spending a day paddleboarding, make sure to wear sunscreen and a hat to protect yourself from the sun. It will almost always feel cool while you are out on the water, but you are still susceptible to the damaging UV rays. Wearing a shirt, or even better- a rashguard, will also help to protect yourself. Most rental places will make you fill out a liability form, and have teachers onsite to teach you the basics. Most rentals lend you the equipment for a couple of hours, and if you do not return they will send a rescue group out for you.
One day paddleboarding and already feel like you have mastered it? Try a smaller board. This makes balancing much more difficult. Paddleboard yoga classes are also growing in popularity and are offered at a variety of locations. If paddleboarding really takes a liking to you, there are many paddleboarding race events throughout the year.
So if you have yet to try out this spectacular San Diegan sport, what are you waiting for? Grab your sunscreen and head down to a rental store today and paddle away into the sunset!
For more information on paddle Boarding in San Diego please visit http://www.mbaquaticcenter.com/