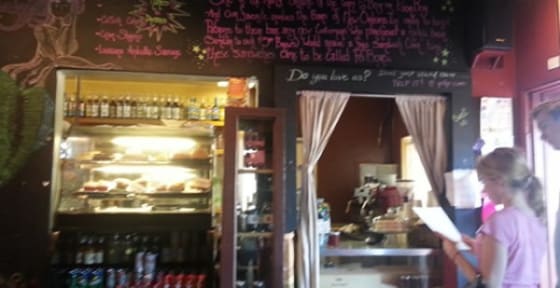 Red's cafe has character. Hiding across the street from the more well-known Living Room in Point Loma and a few doors down from Gabardine, Red's cafe is a good spot to hammer out some work, eat good food, or have a few drinks. The atmosphere is laid back and you never know if someone will be playing tunes on the piano that sits near a full bar towards the back of the cafe.
They have an impressive happy hour with a decent beer selection. Reds also has a long list of sandwiches  and salads ranging from about $9 - $15 bucks. But with the four or five menus that all look the same, it can be a bit confusing, even for a regular.
A few friends raved about the salmon burger and my turkey club was excellent. Emma Goda, IVN San Diego's social media manager and publicist, was excited about their large pour of "J Roget" champagne; saving money, sacrificing Saturday.
All in all, I would highly recommend Reds as a laid-back place to do what ever you want to do on a lazy weekend. There's about five tables on the back patio. Play chess, do some work, some a cigarette. Whatever.