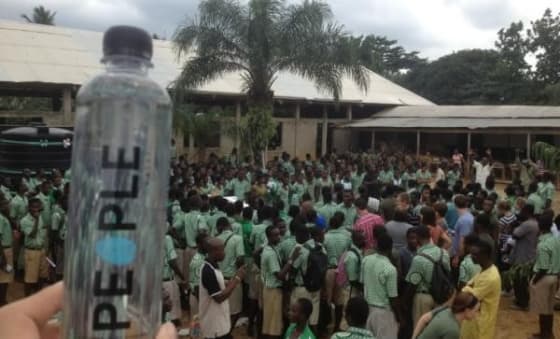 This past weekend, San Diego Gaslamp District welcomed the 11th annual San Diego Film Festival.  For those of you that may have experienced the festival or noticed the marketing trucks around the Gaslamp, official sponsor, the People Water showered locals with a sampling of the newest bottled water company coming to Southern California.
People Water Official Logo

People Water is a leading provider of eco-friendly products providing clean water to thousands of people globally.  People Water provides a link between globally conscious consumers and the millions of people in need of clean water around the world.  Through its drop for drop initiative, for every bottle purchased, People Water will give an equal amount of clean water to a person in need.  This is not simply done by giving bottled water to the less fortunate, but by providing sustainable water resources.  People Water accomplishes this goal by traveling all over the globe and digging wells that will provide entire communities with a renewable water resource.
The most recent example of the Drop for Drop initiative, People Water traveled to Haiti to where they fixed over 20 wells.  On average a well delivers 1,000 liters of clean water a day.  Based on this average, a well will meet its drop for drop commitment in around 6 months.  People Water, by providing 20,000 liters a day is doing its part to create a better living opportunity for the people of Haiti.  To do your part, find out how you can get more involved at www.peoplewater.com.
People Water will be on sale in Southern California at the end of October.
//