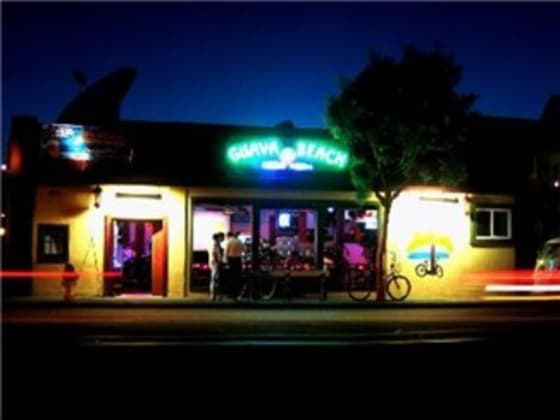 Regarding standard "bar fare" near the beach area in America's Finest City, locals and visitors alike have numerous options in which to satisfy those salty cravings. If one is heading to the beach for a day in the sun, or an evening in the shade, relaxation is surely guaranteed. Although southern Californians tend to lean towards more health-conscious eating habits, and guava fruit juice is relatively easy to come by in San Diego, Guava Beach Bar and Grill has been dishing out the island flavor and bar favorites for over ten years.
Terms like "comfort food," or the proverbial "hangover cure" are often used to refer to establishments with the moniker "bar and grill(e)," but ultimately those titles ring true. The latter description could function for any beach area landmark, but is particularly the case at Guava Beach Bar.  Located off Mission Boulevard, only a few blocks away from the roller coaster, the atmosphere at "Guava" is understated, yet inviting.
Head Chef Michelle Velez has utilized her Puerto Rican/Panamian upbringing in designing a rather extensive, made-from-scratch menu, which covers everything from the coconut chicken sandwich ($10) and burgers ($8.50-12), to hand-rolled southwest egg rolls ($9) and coconut shrimp ($10). If one's craving is a bit more on the adult side, choose from a plethora of island cocktails, particularly the "Gauvarita" ($7.50 grande), or the "Island Mai Tai" ($9). Also, for the local beer nuts out there, Guava Beach proudly carries Stone and Bear Republic breweries' draughts year round.
For those night owls that may need more than the occasional beer or burger, weekly trivia is held every Wednesday night at the end of happy hour (4-7 p.m.).  This weekly trivia, hosted by Dylan Shuck, has built quite a surprising following around town, often with few seats left in the house.
With a delightfully inspired island decor, several plush leather couches, seperate VIP area, and countless flat-screen televisions, Guava is a casual place to gather with friends, grab some great comfort food, and cheer on the Chargers or Padres. It has been said that Guava Beach is "Where the summer never ends," and with the advent of fall, one can always have an endless summer at this well-established island gem.
Guava Beach is located at 3714 Mission Boulevard, Mission Beach, CA.  (858)488-6688.