Credit: http://momentummag.com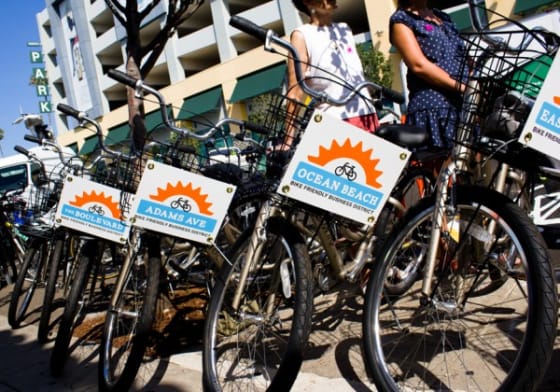 San Diego City Councilmember Todd Gloria and County Supervisor Ron Roberts attended the dedication of a new bike corral in North Park on September 6 to support the San Diego Bike-Friendly Business District initiative (BFBD). The San Diego County Bicycle Coalition (SDCBC) and the San Diego Business Improvement Council are working together to improve local business by encouraging bicycling and attracting bicycling consumers in the city's Business Improvement Districts (BIDS).
Seven local business improvement districts are participating in the first phase of the initiative. They are Adams Avenue , East Village, Hillcrest, North Park, Ocean Beach, Pacific Beach, and EL Cajon Boulevard. By 2013, the program will be implemented in each of San Diego's BIDS.
The San Diego Bike-Friendly District initiative aims to promote the Bike Local/Shop Local campaign and economic growth, alleviate parking problems and traffic congestion by encouraging customers to ride rather than drive, and advocate for more bike parking corrals and racks in the neighborhood business districts.
In addition to the San Diego Bike-Friendly Business initiative, which the SDCBC calls the nation's largest bike-friendly business district program, the SDCBC is also engaged in a project to build more suitable bike and pedestrian paths in San Diego. They have received a grant to plan a bicycle and pedestrian bridge under highways 5 & 52, which would connect riders and walkers in Rose Canyon and San Clemente Canyon (Marion Bear) to the Rose Canyon Bicycle Trail. The SDCBC is highly interested in feedback and ideas from the community and have scheduled a public meeting on October 13 at the bridge site on the Rose Canyon bicycle path. For more information or to add your feedback on this project, please visit RoseCreekWaterShed.org.
The effort put forth by the SDCBC and the San Diego Business Improvement Council to incentivize and encourage bicycling in San Diego BIDS is not only profitable for local businesses and traffic, but also greatly benefits any San Diegan who appreciates a good bike ride!