Credit: White House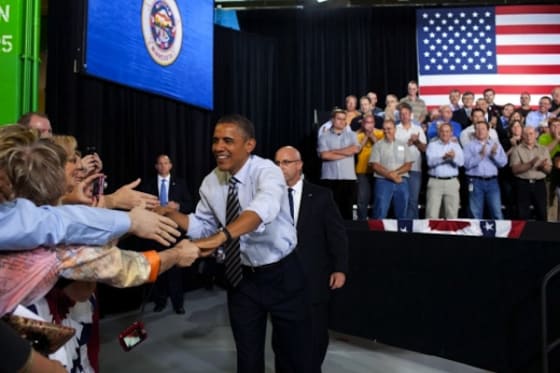 President Barack Obama has expanded a lead he gained over GOP presidential contender Mitt Romney after the Democratic National Convention last week, according to a recent Reuters/Ipsos poll. Of those surveyed, forty-eight percent said they would likely vote for the president while forty-one percent said they plan to vote for Romney.
The online poll, which shows Obama with a seven percentage point advantage among likely voters, questioned a total of 1,231 registered voters over the span of four days. Among all those who were surveyed, Barack Obama leads forty-five percent to Mitt Romney's thirty-nine percent. However, this does not tell the whole story.
Obama is leading on many issues, including taxes, healthcare, social security, and even foreign policy, but never with a decisive majority. Voters favor the president's approach on taxes 41-30, healthcare 44-28, social security 39-27, and the war on terrorism 39-25. The only topic Mitt Romney leads the president, according to Thursday's poll, is on his approach to the federal deficit.
Why are these numbers so low?
The issue survey takers said they favored one of the two mainstream candidates in the 2012 presidential race the most was on jobs and unemployment. Yet, seventy-three percent said they agreed with one of the partisan approaches to the issue, leaving a gap of twenty-seven percent. Obama only leads in that category with thirty-eight percent of voters.
Reuters highlighted the fact that independent voters favored neither of the candidates on a majority of the key issues that will be brought up during the duration of the campaign season. Independent voters are an important voting bloc in national elections and swing the decision one way or the other in battleground states.
"Neither candidate has established credibility on these issues," said Ipsos pollster Julia Clark. "Neither candidate is really doing it for these independents."
Of the independent voters who participated in the poll, thirty-five percent favored Mitt Romney compared to the twenty-six percent who preferred Barack Obama. Clark said this was because of a heavy focus on economic issues.
There is an obvious problem when such an important demographic of the constituency is not properly represented in these polls. Especially, when several nationwide surveys reveal that there are more independent voters in this country than people who affiliate themselves with the Democratic Party or the Republican Party.