Credit: slacktory.com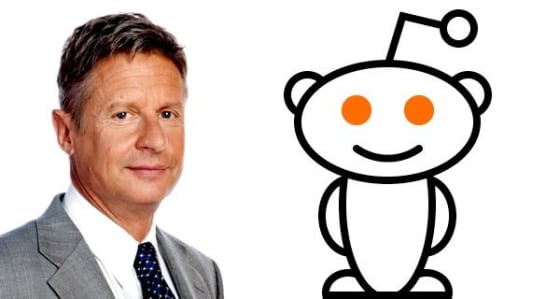 Last week, Libertarian presidential candidate, Gov. Gary Johnson announced that Tuesday, September 11th, the popular social media and news website, Reddit.com would be hosting its second Gary Johnson Reddit AMA event.
An AMA, short for "Ask Me Anything," is a real-time, group interview format in which Internet users can pose unfiltered questions to interviewees in a comment thread on Reddit. The host of an AMA chooses which questions to answer, but there is no moderator for the questions. The former governor of New Mexico will be hosting the online interview tomorrow.
Gov. Johnson's first AMA took place on October 11th, 2011 and he answered basic questions regarding his political platform. He was asked what his first action would be if elected president. It was no surprise when he replied:
"First action as president is to submit a balanced budget to Congress in 2013. So my first action is to start this process which is to create a blue print for a 43% reduction in government spending."
However, participants also asked more informal questions. When asked what his favorite lunch food is when he's feeling lazy, Gov. Johnson replied, "nachos." He is also known as a tri-athlete and fitness expert. When asked to draw similarities between his experiences climbing Mt. Everest and making a run for president, Gary Johnson answered:
"There are endless similarities. Goal setting, determination, the ability to weather the storm, in my case breaking my leg prior to going to Everest and be faced with the question do I give up or do I make the best of a really bad situation."
With the second Gary Johnson Reddit AMA, it's hard to tell if the discourse will be different from the first, however, there have been events that have changed the perspective of potential voters and Reddit users. President Barack Obama hosted his own AMA on August 29th, and caused the website to crash for several minutes.
A lot has also happened since the first Gary Johnson Reddit AMA in 2011. Gov. Johnson recently began to reach out to Ron Paul supporters at P.A.U.L. Fest to rally their support for his libertarian platform. The Gary Johnson campaign is also now on the brink of achieving ballot access in all 50 states.
Additionally, Americans have also seen both major party conventions, and the two largest presidential campaigns are in full swing. Gov. Johnson could be asked about his perspective on the evolving political and electoral landscape. Redditors and their Internet guests will decide Tuesday.