Credit: Tom Smart / Deseret News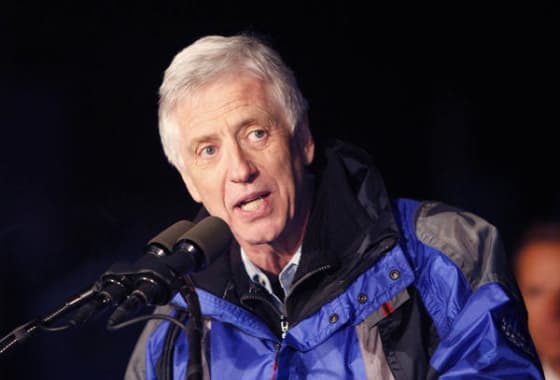 Presidential candidate Rocky Anderson has gained support across party lines in several states across the country. He is currently on the November ballot in several states.
As a new political party, the Justice Party does not have as many followers as other third parties. This puts them at a disadvantage in terms of ballot access. According to the chairman of the Connecticut Independent Party, Mike Telesca, it is an uphill battle to be seen nationally as a third party candidate.
That being said, this challenge has led the Rocky Anderson campaign to seek support from outside parties.
As of Sunday, Anderson will appear on the ballot in 13 states. He has secured his position on those ballots by appealing to independent parties as well as his own. Anderson is set to appear on the ballot in eight states with the Justice Party and five states with other independent parties. Other state ballots are currently pending.
Sally Soriano, press secretary of Rocky Anderson's campaign, said he has received support from the Oregon Progressive Party, the Michigan Natural Law Party, the Independent Party of Connecticut, and the New Mexico Independent Party. "These parties are interested in a progressive person who is taking on the duopoly," Soriano added.
Many of the parties choosing to support Anderson have chosen to back Ralph Nader in the past. Justice Party Social Media Coordinator, Steen Kirby, explained that the parties that formerly backed Nader are mostly "progressive/liberal" in nature.
"Our campaign actively pursued the endorsement of these parties, as our campaign is in many ways similar to the campaigns Nader ran, although not completely," he stated.
Ralph Nader has also expressed his support for Anderson. He said that his background as a constitutional lawyer and progressive mayor makes him a "candidate of conscious".
Kirby emphasized the importance of the Connecticut Independent Party's support. "The CTIP is the third largest political party in Connecticut and has been around for a good while," he said. "They also nominated Nader in 2008 but tend to support candidates across the political spectrum not just progressive/liberal."
Mike Telesca said the party mainly chose Anderson because of his ethical stance on the issuues. He sees the similarities between Nader and Anderson and believes that he deserves their nomination. "To keep the spark of independent politics alive there needs to be a candidate like Anderson," he said.
It is rare that differing political parties will cross lines and come together in support of one candidate. While it is more likely for this to happen with third party candidates and those that are similar in nature, it is still a significant step toward muddying the lines of bipartisanship.
"I think if you look at his platform and his record it fits very well with these four parties' stated platform and goals," Kirby said. "In addition, he is a solid candidate who should get enough votes for those parties to keep their ballot access, which is obviously very important to smaller parties as their ballot lines are their lifeblood."