As an up-and-comer in the social media world, Google+ (Google Plus) made its convention debut this week, playing an integral role in the coverage of the 2012 Republican National Convention. Powered by the internet giant Google Inc., Google+ has integrated YouTube into it's social network, with Google Hangouts and YouTube live-streams available to everyone with Internet access.
Photo Credit: Mashable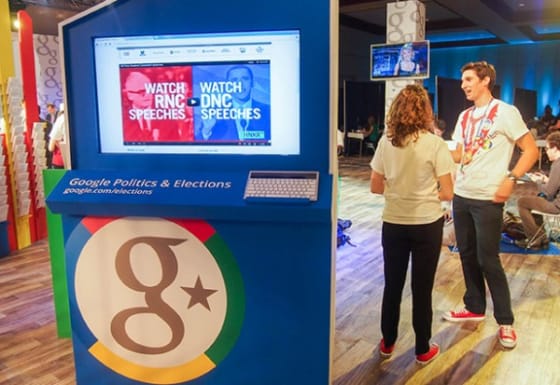 Making its debut June 2011, the social network has grown at a steady pace, but has yet to reach numbers comparable to Twitter or Facebook. The network does, however, seem to be a favorite among politicians, with news outlets and politicians alike utilizing the features of Google Hangouts for this year's convention.
Alicia M. Cohn and Julie Ershadi of The Hill report,
It's their opportunity to showcase Google Plus, a platform that has arguably become more popular with politicians than it is with average users.  The platform did not even exist during the last presidential cycle, but this year it will host convention-themed Google Hangouts, video chats with speakers, delegates, reporters and anyone else who stops by Google's physical display areas at either convention.
The Official Page of the Republican National Convention in particular has done a spectacular job navigating the social network, streaming videos throughout the day, hosting Hangouts with reporters live on the scene, and posting live updates straight from Tampa, Florida. Other notable users of Google+ this election season include the Washington Post, PBS NewsHour, and the White House.
And for all of you still unwilling to embrace Google Plus as a viable alternative to Facebook, you might want to take a look at this new report, that shows Google Plus at the top of the list based on user satisfaction, and Facebook ranked at the bottom.
Are you coming around to Google+ as a social network comparable to Facebook or Twitter? Have you been following the GOP Convention on Google Plus?