http://www.youtube.com/watch?v=pZipUINVXIc
In case you missed it, here's Paul Ryan's address to the Republican National Convention that had everyone talking. But just how much of it was true?
Politifact, a news organization dedicated to measuring the accuracy of statements made by members of government on a "Truth-O-Meter", live-tweeted Paul Ryan's speech, revealing that while energizing, Ryan's speech was riddled with factual short-cuts.
From Paul Ryan's Profile, on Politifact.com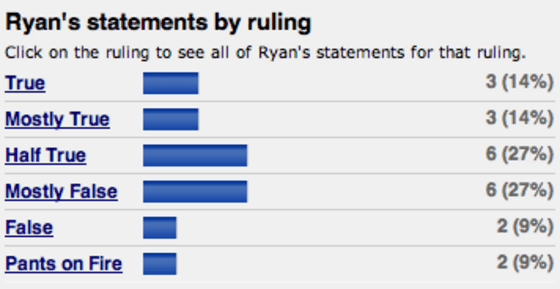 Politifact has also put together this profile on Paul Ryan, measuring his tendencies to stick to the facts. It reportedly tracks his statements as borderline true, with 27% of his statements "Half True" and 27% of his statements "Mostly False". These numbers are relatively low when compared to Joe Biden, whose statements are generally either "True", "Mostly True", or "Half True".
You can find a stream of tweets from last night's event on their Twitter Page by clicking here.
What do you think of Paul Ryan's speech? Did you catch any more "Half True" or "False" statements?