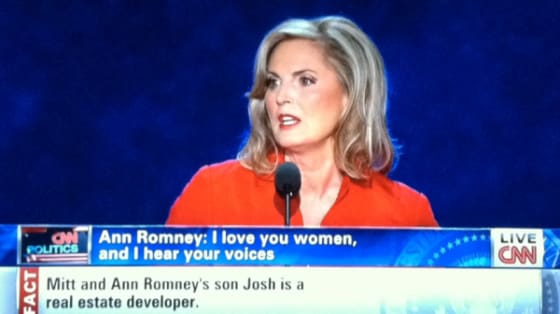 It's no secret that social media is revolutionizing the way in which we interact with politics, and the 2012 election is evidence of the growing role of Twitter in the revolution of reporting. By the end of the first day of the Republican National convention, there had been more tweets relating to the convention than 2008 saw during the entirety of the convention.
On Tuesday, August 28, Twitter reported that tweets relating to #GOP2012 peaked at 1,448 tweets per minute at 5:44p ET. But the most tweets came at the end of @AnnDRomney's speech, during which there were 6,195 tweets per minute, beating out politicians such as Gov. Chris Christie and former Senator Rick Santorum.
https://twitter.com/twitter/status/240661091175243777
Also, her Twitter Political Index reveals that sentiment towards her on Twitter was positive:
It wasn't just that Mrs. Romney's speech inspired a lot of conversation, but Twitter responded positively as well. Her Twitter Political Index score nearly doubled over the course of her speech, from 45 to 83— the biggest increase for any of the night's speakers.
Missed her speech? You can watch her full speech below:
http://www.youtube.com/watch?v=vK9Gl8PZfyk