Screenshot from California Right to Know Campaign ad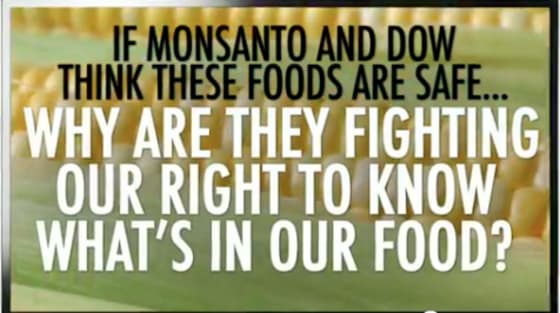 Yes on Proposition 37 California Right to Know Campaign is launching a their first television ad today. The $150,000 campaign will air the 30-second video in major media markets for 10 days, according to a California Right to Know Campaign statement.
Proposition 37 requires the labeling of genetically modified food and will be on the California ballot in November.
California Right to Know Campaign Media Director, Stacy Malkan, said in a statement:
"In addition to their history of false health claims about DDT, Agent Orange and tobacco, the same corporations and political operatives are making false claims about the safety of genetically engineered food -- even though numerous studies link these foods to allergies and other health risks, as well as to significant environmental problems. Californians have a right to know whether or not their baby formula, corn chips or soy milk contains genetically engineered ingredients that have not been proven safe."
http://www.youtube.com/watch?feature=player_embedded&v=Szq2GFYktG8