Paul Sadler (D-TX), Democratic candidate for the U.S. Senate. Credit: Texas Tribune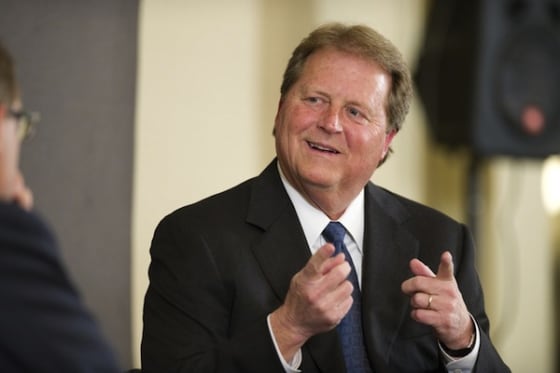 Paul Sadler, Democratic candidate for Kay Bailey Hutchison's U.S. Senate seat, told the Texas Tribune that Ted Cruz does not represent Texas or Texas values. He said Cruz's views are radical and not in the interest of voters he doesn't understand.
"He needs to go back to Washington where he's from, or Canada, because he doesn't reflect us. I was born and raised here. I was born in South Texas. I've lived in West Texas. I've lived in the Panhandle and I come from East Texas. I went to school at Baylor. When you cut me, I bleed Texas. He doesn't."
Sadler is right. Ted Cruz was not born in Texas or the United States. He was born in Calgary, Alberta, Canada. However, he is not from Washington. He was raised in the Houston area. Cruz is not a native Texan, but he has lived in the state most of his life.
The Cruz campaign hasn't responded to these remarks yet. They don't have to. It is not likely to score very many political points for Sadler. In fact, most people are likely to ignore it because the Democratic candidate in the Texas Senate race is borderline inconsequential. Republicans in the state view him as the "sacrificial lamb" in the general election, and several political pundits agree.
The moment Ted Cruz won the GOP nomination for the U.S. Senate race he was expected by many analysts in the state to join Senator John Cornyn on Capitol Hill. Paul Sadler easily secured the Democratic nomination in a runoff election against Grady Yarbrough, but his chances of winning the general election are very slim in a state where the majority is overwhelmingly Republican.
However, Sadler would like to show people that he is ready to challenge Ted Cruz and doesn't want people to count him out just yet.
Unlike his opponent, Sadler has held elected office in the state. He served in the Texas House of Representatives from 1991 to 2003. He first served as the representative of House District 9 and then represented the 8th district after it was redrawn during redistricting. He made a run for Texas' Senate District 1 in 2004 during a special election, but lost the runoff election.
Ted Cruz served as Texas Solicitor General under Attorney General Greg Abbott. The Office of the Solicitor General supervises all appellate litigation on behalf of the Attorney General. As chief litigator, Cruz represented Texas before the U.S. Supreme Court on a number of occasions, but the U.S. Senate seat would be the first elected office he has held.
Before he even entered the race, Ted Cruz had gained a great deal of support and admiration from members of the Texas Tea Party and had caught the attention from national Tea Party leaders. He has become a rock star to these conservative activists, which raised his appeal among many voters in the state and helped him to win an upset victory over Texas Lt. Governor David Dewhurst.
Cruz is scheduled to speak at the Republican National Convention and is the only Texan with a major speaking role this year. Paul Sadler made reference to the RNC during his interview when he criticized Ted Cruz and other people who advocate abolishing the U.S. Department of Commerce.
On top of what abolishing the DOC would do to matters dealing with patent protection, Sadler mentioned that the agency has the United States weather bureau. The National Oceanic and Atmospheric Administration (NOAA) tracks major storms (On top of several other things) like hurricanes, which the RNC has to deal with this week, and reports their data through the National Weather Service. He said without the DOC people wouldn't be properly warned of potential natural disasters.
Paul Sadler will have an opportunity to challenge Ted Cruz on his stance on the Department of Commerce and other issues when both candidates take the debate stage on October 2 in Dallas, Texas. Sadler claims that Texas voters will agree with him that Cruz will not put their interests first.