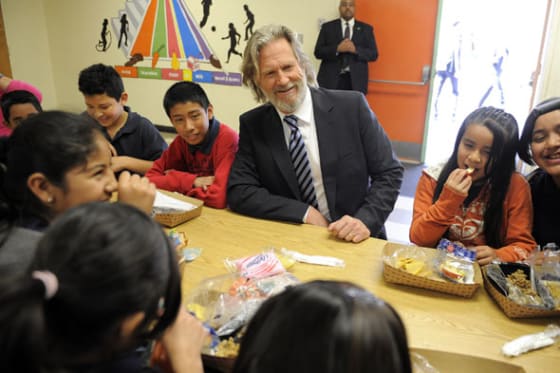 In a blog post Wednesday, famed actor Jeff Bridges announced his intention to attend both the Republican and Democratic National conventions to raise awareness about childhood hunger in the US. He will be there representing No Kid Hungry, an organization devoted to ending child food insecurity. Mr Bridges will be meeting with leaders and raising awareness about the issue, bringing the message that hunger knows no party affiliation.
Mr. Bridges founded the End Hunger Network in 1983. The non-profit organization works with the entertainment industry to raise awareness of childhood hunger and to develop innovative programs to that end. Partnering with Share Our Strength's No Kid Hungry campaign to end childhood hunger, Bridges has become a national spokesman for the cause, using his celebrity to encourage positive actions.
A USDA report found that as many as 14.5% of US households experienced food insecurity at some point during 2010, and that about 5% of households experienced "very low" food security during that same year. Food insecurity is when one or more members of a household did not get enough, or their food intake was disrupted due to lack of money or resources to maintain a healthy diet. As many as 16 million children do not have access to enough nutritious food at some point during the year.
For those hardest hit in this economic climate finding enough food to live a healthy productive life is a daily struggle, in some areas the need for assistance has increased since the economic downturn. Those who need help the most get little comfort from an upcoming agriculture bill that would cut 16.5 billion dollars from food assistance programs over time. There's no doubt that we need to balance the budget and reign in spending, but what will be the long term costs of not dealing with food insecurity?
Stating plainly that he doesn't "dig party lines," Jeff will be reaching out to Democrats and Republicans as they hold their respective conventions, pressing for the need to end hunger among the children of this nation. An engaged individual, Bridges looks beyond political affiliation and demographics to see the universal nature of hunger and its suffering, an understanding he conveyed writing on his No Kid Hungry blog:
"Throughout the year, I make my home in two very different places: Santa Barbara, California and Livingston, Montana. Those are two communities that don't have much in common on the surface, but they're both affected by childhood hunger."
Mr. Bridges is going beyond partisan politics to tell our elected officials and hopeful candidates that America's future depends on supporting America's children today. He reminds us that there are issues that transcend partisan rhetoric, that even as the parties bicker in one of the most heated presidential races, that there are consequences to ignoring the plight of those children who go to bed hungry. Just as hunger knows no party affiliation, compassion also-- is non-partisan.