Credit: McClatchy-Marist Poll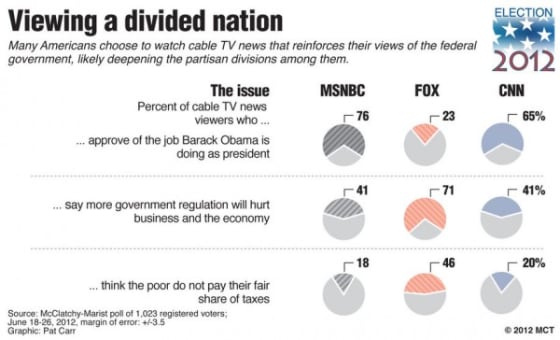 Extreme partisanship among the big cable news networks has done its fair share in shaping the American political landscape. These days, a person's preference in cable news networks can be a decent indicator of the party they affiliate with. However, trust in these networks has significantly dropped over the past few years.
Findings from a new Pew Research Poll indicate that positive believability ratings have fallen drastically among nine out of 13 news organizations. The poll examined outlets including broadcast TV networks, the three major cable news networks, national and local newspapers, and NPR. Participants rated news organizations on a scale of 1-4. A rating of 1 means someone believes little or nothing the organization says, while a 4 means they agree with most, or all information.
Local TV news channels received the highest believability rating, with about two-thirds (65%) of participants giving these outlets a positive rating. Both the New York Times and USA Today's ratings have fallen about 10% since 2010. Ratings for the three major cable news networks, Fox News, CNN and MSNBC, have fallen considerably as well. Fox and CNN both fell 7 points, and MSNBC fell 10.
Credit: Pew Research Center
The poll also revealed that 36% of participants receive their campaign news primarily from cable news networks. With 55% of Democrats tuning into primarily MSNBC and 43% of Republicans watching Fox News, it is easy to say that cable news has a profound effect on political ideology and voting habits. Check out the above chart from a recent McClatchy-Marist poll, which shows voter's stances on the major issues.
Will there ever be a day where the major cable news networks take a more non-partisan approach to their coverage? I have personally noticed some change in CNN's coverage, moving slightly more towards the middle. A teaser for a Piers Morgan interview caught my attention recently. It said, "... with Piers challenging them from the center." Is CNN trying to reach out to independent voters? I've found myself watching CNN more, and appreciating their viewpoints from both sides of the political spectrum.