Photo: facebook.com/judgejimgray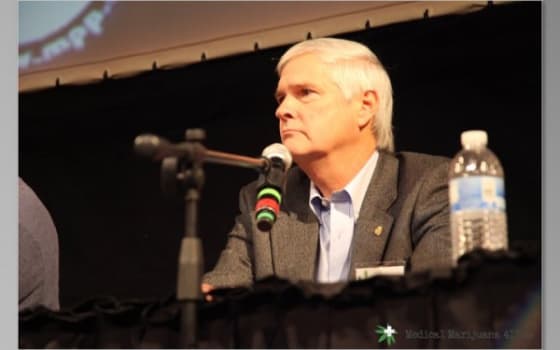 With the "Veepstakes" over and the spotlight on Mitt Romney's newly announced running mate, Rep. Paul Ryan, here's a closer look at the vice presidential candidate for the Libertarian Party, Judge Jim Gray.
Why's it newsworthy? The Libertarian Party is the third largest political party in the United States. Its presidential ticket for 2012 is expected to be on the ballot in all fifty states, has qualified with the FEC for matching federal campaign funds, and has already met one of the two main requirements to share the presidential debate stage with the Republican and Democratic candidates this Fall. The Libertarian ticket is working hard to meet the second threshold: 15% support in selected national polls.
It's a credible effort from a ticket headed up by what is arguably the Libertarian Party's most credible and well-credentialed nominee in its forty year history: Gary Johnson, a two-term governor from New Mexico. Johnson selected his running mate earlier this year: former federal prosecutor for the US Attorney's office in Los Angeles, Navy Veteran, and Orange County Superior Court Judge, Jim Gray.
Gray says he agreed to be Gary Johnson's running mate on one condition, that the objective of the ticket is to actually win the presidential election, not merely to use the presidential campaign as a platform for sharing libertarian ideas as the Libertarian Party has tended to do in the past:
"Actually when Governor Gary Johnson asked me to be his running mate it was deeply exciting, but I said there's one condition and that is that we run to win. None of this moral victory stuff. None of this making a good showing. And he said, 'Yes, that's exactly where I am.'"
He also says that when he agreed to run with Johnson, that the New Mexico governor told him something he considered unusual and praiseworthy:
"He said, 'Jim, throughout the campaign, if you disagree with me, feel free to state your ideas publicly.' That's the type guy he is. He's self-confident. He wants to get the right information out there. Work on the right information. I'm proud to be his running mate."
In 1983 Governor George Deukmejian appointed Jim Gray to the Santa Ana Municipal Court and later elevated Gray to the Superior Court. Gray's place alongside Gary Johnson brings several new strengths to the Libertarian Party ticket. A lifelong resident of the Los Angeles, California area and a graduate of UCLA, Gray could be part of a bid for more votes in California, a state that has also received plenty of attention from both President Obama and Governor Romney this election cycle.
Gary Johnson's business experience and executive political experience are also supplemented by Jim Gray's judicial background on a ticket that is drawing a sharp contrast between itself and the two larger party tickets on civil liberties and constitutional law. Gray also brings civil service and military experience to the ticket, with two years of Peace Corps service in Costa Rica and three years as a criminal defense attorney with the U.S. Navy JAG Corps in both Guam and California.
During his time of service, Jim Gray was awarded a National Defense Ribbon, a Vietnam Service Ribbon, and a Combat Action Ribbon. His military service adds something to the ticket that neither the Republican, nor Democratic ticket have. In fact, this is the first election since 1944 in which neither major party ticket has a military veteran.
Though he's never used illegal drugs, one of Jim Gray's defining issues is ending the decades-long War on Drugs and legalizing marijuana, adding fuel to the fire of a pet issue for Gary Johnson, who has advocated vocally against drug prohibition for years and made drug policy a central part of his presidential campaign.