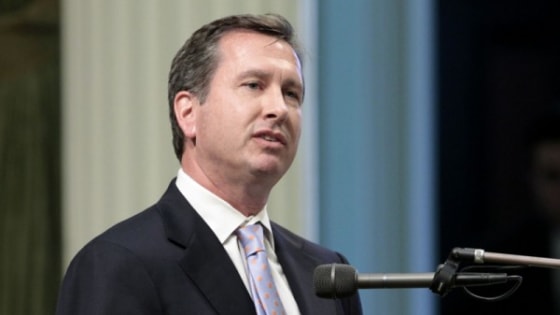 Following a tax vote to support the elimination of a corporate tax break, California Republican Assemblyman Brian Nestande has stepped down from his position as Republican caucus chairman in a move largely interpreted to be a rebuff of his party's staunch opposition to taxes.
"With my vote yesterday I decided to take the side of my constituents and California businesses," Nestande said in a statement.
The Riverside County lawmaker voted Monday with Democrats on AB 1500, sponsored by Assembly Speaker John Perez and designed to roll back a tax break and "require all corporations to calculate their state income tax liability based on the percentage of their sales in California," said the San Francisco Chronicle late Tuesday.
Nestande's move was decisive, as the bill passed by one vote.
"I cast a vote yesterday as the only Republican to level the playing field for California businesses, so we have the same corporate tax policy as Texas, Wisconsin, South Carolina, Mississippi, Michigan, Indiana, Utah, and 10 other states," said Nestande in a statement.
AB 1500 is one of two bills that make up the Middle Class Scholarship Act. The package will eliminate the Elective Single Sales Factor loophole in corporate tax rates.
According to a statement, the loophole "allows out-of-state corporations to pay less in taxes than businesses based in California." Estimates say nearly $1 billion is lost annually under the current tax rules.
Additional tax revenue collected from the measure would be used to fund scholarships for middle-income students at California universities. Students from families making less than $150,000 a year will receive significant tuition breaks, cutting costs by two-thirds.
Assemblyman Nathan Fletcher, who dropped his Republican party affiliation this year and became an independent, also joined Democrats in supporting AB 1500.
"By closing a tax loophole that benefits out of state corporations we can put millions of Californians a step closer to achieving the American Dream," Fletcher said in an earlier statement. "Now is the time to restore access to higher education and also make California a more competitive place to create 21st century jobs."
In reaction to the deciding vote, Speaker Perez praised Nestande on Tuesday.
"I deeply respect the fact that his votes reflect his principles," Speaker Perez said in a statement. "I believe this kind of leadership should be practiced by every member of every party."