(LATimes.com/Twindex)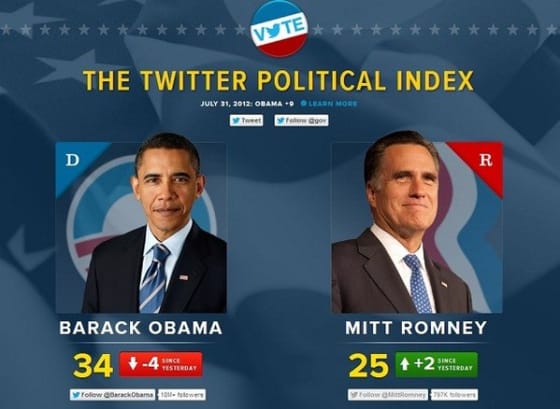 In 2008 candidates exploded onto the social media scene with Facebook pages, Twitter accounts, and blogs. The election became an event which involved and interacted with voters, instead of a story they watch passively on the news. The 2012 election promises to continue the social media trend.
On Facebook as of August 14th, Obama and Romney have 27,773,047 and 4,157,716 likes, respectively. President Obama's campaign (and his White House administration) have always been extremely active on the social media front, so its unsurprising that he has a large following. Romney, on the other hand, has just taken some major steps in the social media arena. His announcement of Paul Ryan as his VP was promoted entirely through Twitter and his smart phone application, "Mitt's VP." Romney's campaign is taking note of Obama's success garnering support through online sources.
Romney's running mate, Paul Ryan is somewhat of a social media mogul. Romney's inclusion of the Wisconsin representative may be the boost he needs to motivate his somewhat stagnant online following. Ryan is an active Twitter and Facebook poster, with more followers than any other congressional figure, save John Boehner and Nancy Pelosi. According to David Jennings of BigJollyPolitics.com:
"With Romney, conservatives on social media were like, 'OK, we have to tweet about him once in a while, Facebook about him once in a while.' But with Ryan, it's going to explode, it kicks up excitement from the social media point of view. If it was [Ohio Sen. Rob] Portman, say, you wouldn't have the reaction you're having this morning. It wouldn't be there."
In fact, a key factor behind Romney's choice in a running mate may have been his social media presence. A new feature by Twitter and Topsy analyzes tweets mentioning either candidates and rates them from 1 (negative) to 100 (positive). Using this data, the Twindex then generates an overall rating for the candidate each day.
Interestingly enough, Twindex ratings have matched up with Gallup polls in the past. In August 2010, Topsy compared the Twindex ratings to Gallup poll ratings and there was a significant correlation between the two. Though Twitter may be a social media tool, it is also a decent indicator of voter preference during the election.
Social media is a fantastic tool for candidates in so many ways. It allows them to connect to their constituents on a more personal level, while also giving the appearance of transparency-- a trait that voters appreciate in a candidate. Micro-blogging platforms like Twitter can be used to test the waters on voter support for a certain candidate at any given time.
President Obama certainly jumped on the Internet train early, riding it all the way to the White House. Romney has been more reserved, and as a result, his online support is less energetic for his cause. The Romney campaign's inclusion of Paul Ryan may be the game changer when it comes to social media support. Regardless of political affiliation, social media has become a key factor to gaining support during an election year.