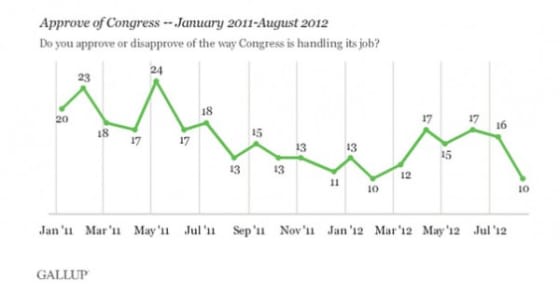 The Congress approval rating by American voters fell to an all-time low today. According to Gallup, just 10% of Americans think Congress is doing a good job. This is the lowest measure in the 38 years Gallup has been conducting the poll.
The disapproval of congress does not appear to be a partisan issue, as Republicans, Independents, and Democrats show an 11%, 10%, and 9% rating, respectively.
From Gallup:
Before 2007, Congress approval had been below 20% only twice -- in 1979 and 1992. The highest congressional job approval in Gallup's history was 84% in October 2001, a month after the Sept. 11 terrorist attacks on New York City and Washington, D.C. Congressional approval is down among all political groups and is now virtually the same across these groups -- with Democrats at 9%, independents at 11%, and Republicans at 10%. Democrats' approval declined the most, from 18% in July.