Credit: paulryan.house.gov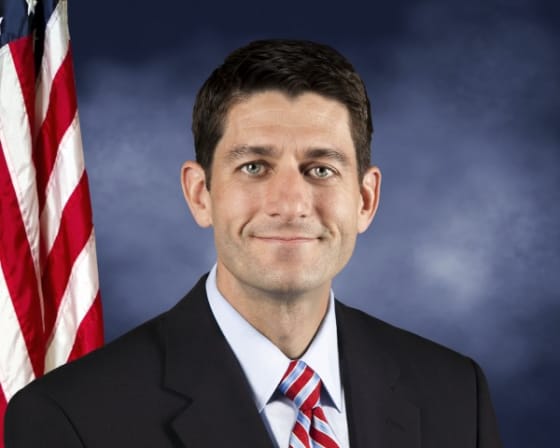 Update: Watch the Romney campaign announcement live here.
Mitt Romney has chosen Rep. Paul Ryan, of Wisconsin as his vice presidential running mate, according to a campaign statement. The official announcement is expected Saturday morning at the launch of a Romney for America four-day bus tour in Norfolk, Virginia.
In prepared remarks, Rep. Ryan immediately launched an attack on President Obama's record.
"This is the worst economic recovery in 70 years," Rep. Ryan said. "Unemployment has been above 8 percent for more than three years, the longest run since the Great Depression. Families are hurting."
"Whatever the explanations, whatever the excuses, this is a record of failure."
Wide speculation exploded last night and early Saturday morning following a campaign announcement indicating Romney's pick would be unveiled in a scheduled announcement Saturday morning at 9am. Rep. Paul Ryan was confirmed as the Romney campaign's choice for vice president by multiple Republican sources last minute, according to major news outlets.
AP, Reuters, NBC News, and Huffington Post began reporting early Saturday morning that the pick had been confirmed by Republican sources.
Rep. Ryan represents Wisconsin's 1st congressional district since 1999. He is one of the co-founders of the Young Guns program, designed to recruit and support campaigns for House Republicans.
On Saturday the VP candidate touted his bipartisan record.
"I believe my record of getting things done in Congress will be a very helpful complement to Governor Romney's executive and private sector success outside Washington," said Ryan on Saturday. "I have worked closely with Republicans as well as Democrats to advance an agenda of economic growth, fiscal discipline, and job creation."
Rep. Ryan built a name for himself as a nationally recognizable figure for drafting and promoting the Republican budget plan "Path to Prosperity: Restoring America's Promise", also known as the "Ryan budget". Main tenants of the plan include converting the Medicaid program into a voucher system and imposing a cap on federal discretionary spending at $1.029 trillion.
During the Republican primary process, former Speaker of the House Newt Gingrich famously railed against the budget, calling it "right-wing social engineering". New York Times columnist and economist Paul Krugman called the proposal, "simultaneously ridiculous and heartless." President Obama has called the Republican plan "social Darwinism".
A Ryan pick is widely believed to add a breath of fresh air to the Romney campaign. Rep. Ryan is, of course, just 42 years old. He was elected to his congressional seat at 28. Additionally, he appeals to the Tea Party wing of the Republican base, as well as the Catholic vote. Both are demographics Gov. Romney struggled to gain support from in the lengthy GOP primary election process.
Rep. Ryan garnered 6% Republican support in a recent poll assessing preferences for a 2016 presidential race, according to Public Policy Polling.
Ryan's nomination marks the first time since 1924 the state has had a candidate on a presidential ticket. Adding him to the ticket is expected to aid GOP chances of swinging Wisconsin red in November.
Another fun fact: Rep. Ryan was once employed as an Oscar Mayer Wienermobile driver. He was also voted prom king in high school.