Credit: laist.com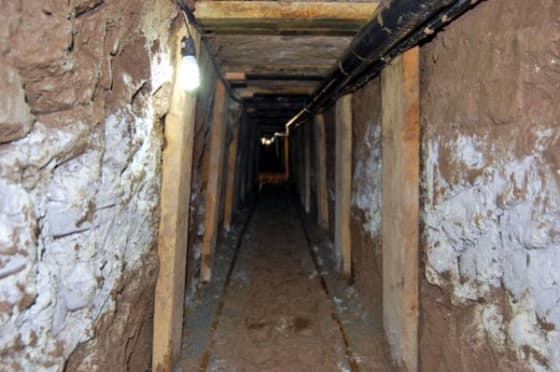 A border security bill has languished in Congress for months. It would provide much-needed tougher penalties for constructing and using underground border tunnels and seems a victim of our gridlocked politics.
Senate Bill 1236, the "Border Tunnel Prevention Act of 2011" was introduced by Sen. Dianne Feinstein (D-CA). Among its border security highlights it would:
1) subject anyone who attempts or conspires to construct or finance construction of an unauthorized tunnel or subterranean passage that crosses the international border between the United States and another country, to use such a tunnel for smuggling, or to disregard such construction or use, to the penalties prescribed for someone who commits such an offense; (2) make such a border tunnel offense a predicate offense for a money laundering violation and for authorization for interception of wire, oral, or electronic communications; and (3) provide for the criminal forfeiture of proceeds of such an offense and the seizure and forfeiture of merchandise introduced into the United States through such a tunnel. Encourages the Secretary of Homeland Security (DHS) to annually provide each known nongovernmental owner and tenant of land located in a national security zone with a written notification that describes federal laws related to the construction of illegal border tunnels and the procedures for reporting violations of such laws to United States Immigration and Customs Enforcement (ICE Requires the Secretary to submit an annual report describing: (1) cross border tunnels discovered in Southwest Border land; and (2) DHS needs to effectively prevent, investigate, and prosecute border tunnel construction on such land.
The bill passed the Senate on 01/30/2012, but sat in the House of Representatives as H.R.4119 where it finally passed on 05/16/2012 and was sent back to the Senate. But it was sent back again, revised then finally sent to the President where he signed it on 06/05/2012. But then it was then revised yet again and sent to the House as  H.R.2264. From there it went to several subcommittees where it now sits in waiting.
So if you're expecting to have our borders secured in any realistic time frame, expect a long wait. This seems an exercise of checks and balances on steroids, especially considering it involves our security and safety.
When the border security bill finally passes, it will have cost (the taxpayers) an exorbitant amount. There seems no way we can set budget and expect it to work if our government continues its endless wrangling and negotiating in a hyper partisan atmosphere.  If this was a business and operated this way, it would have to close the doors, as the expense of getting anything done effectively would outweigh what could reasonably be accomplished. A good manager would be firing people and their foot down, and with good reason.