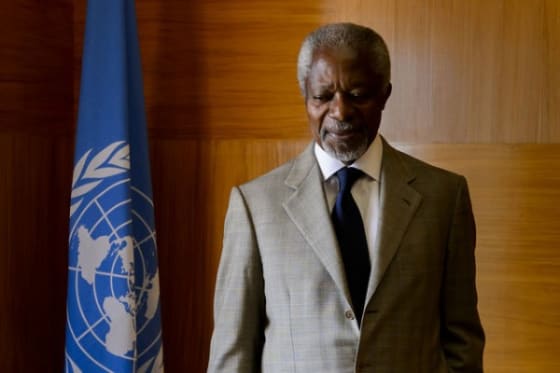 UN-Arab League envoy for Syria, Kofi Annan, has resigned after a failed attempt to gain Syrian President Bashar al-Assad's acceptance of his peace plan. The UN is in currently involved in discussions with the Arab league to appoint a successor. Whoever follows Mr. Annan will have a tough order to fill, as the  former UN secretary general and Noble Peace prize winner quit only after immense frustration from the country's escalating civil war.
After being appointed to the position in February of 2012, Mr. Annan put together a six-point peace plan for Syria, including a cease-fire. Following the implementation of the plan there was a small drop in violence, however the fighting has continued to rage. Discouragement over the failed plan undoubtedly contributed to his motivation to resign.
While resigning, Mr. Annan criticized world leaders for failing to unite and stop the chaos in the Arab State. He maintains that President Assad will have to step down for the good of his people. He has also made it clear that he does not want to renew his mandate when it expires on August 31st.
According to the Associated Free Press, UN leader Ban Ki-moon said in a statement:
I wish to express my deepest gratitude to Mr Annan for the determined and courageous efforts he has made as the Joint Special Envoy for Syria.
He went on to say:
Kofi Annan deserves our profound admiration for the selfless way in which he has put his formidable skills and prestige to this most difficult and potentially thankless of assignments.
The Syrian crisis has lasted for nearly 17 months, and opposition groups claim that more than 20,000 people have died, while thousands more have been imprisoned or displaced from their homes. As the violence continues, the United States has cautiously provided some assistance to the Free Syrian Army, opposed to President Assad's regime.
U.S. intelligence agencies have been allowed by the White House to share some information about troop movements to opposition groups, but are still wary about becoming directly involved. If the rebels can establish a safe zone for themselves, the administration will consider more active involvement, which is so far limited to, humanitarian aid, communications gear, and medical supplies. The Obama Administration is still standing by its assertion that it will not provide weapons to the rebel forces.
The Administration holds firm that the U.S. will not be the one to create a safe zone for Syrian rebel fighters, and there is fear that greater American involvement would mean more lives lost, doing more harm than good.
Mr. Annan's resignation from his position as peace envoy demonstrates the direness of the current situation in Syria. As rebel forces become more organized and better equipped we will likely see greater involvement from the United States and UN alike.