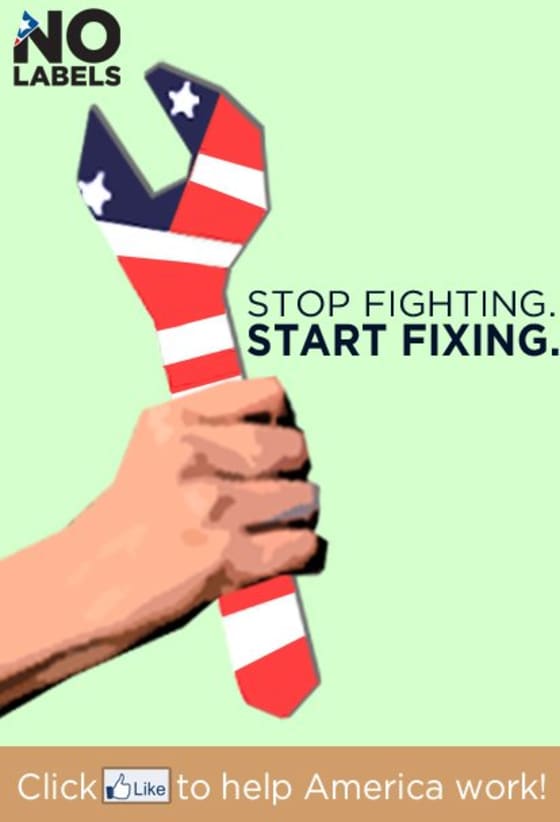 Due of the overwhelming success of our last two tweet chats, we're hosting a third one, to be held next Thursday, August 9th at 11am PST, 2pm EST. While our first tweet chat focused on independent voters, and our second one on independent candidates, our third tweet chat will look for answers to the hyper-partisanship we see in government today.
To help us discuss these issues, we've invited members of the non-partisan organization No Labels, the authors of 12 Ways to Make Congress Work and 11 Ways to Make the Presidency Work. We've been covering the progress of No Labels for a while here at IVN, paying close attention to their No Budget, No Pay campaign and their Make Congress Work! initiative. Their message resonates with us:
"The parties have organized themselves into warring clans that value defeating the other side over even the most basic acts of governing, like passing a budget on time or confirming competent people to staff our courts and the president's Cabinet." - No Labels
The Goal
There's been a lot of frustration, aggression, and bickering among politicians and voters alike at the lack of bipartisan cooperation we've recently seen from lawmakers. Members of Congress have failed to come together in compromise, and solution-making takes the back seat to partisan gridlock. Congressional approval ratings are at an all time low, and the Washington Post's Ezra Klein went so far as to argue that this is the worst Congress ever. But with all this bickering, where are the solutions? That's why we want to come together and have an open discussion about solutions to hyper-partisanship and Congressional gridlock.
To be clear, the purpose of this tweet chat is not to point fingers, rather our goal is to come together as a community and discuss real policy options, solutions, and ways in which we can fix the polarized nature of our government.
The Basics
What is a tweet chat? 
A tweet chat is an online conversation surrounding a specific topic. This pre-arranged chat takes place on Twitter and usually has a moderator and a hashtag. In our case, we will be moderating the event and we have chosen the hashtag #indyvote (as in independent voter). For this month's tweet chat, we will be joined by the folks at No Labels to discuss independent solutions to partisan gridlock. Get a head start and check out their Twitter account here: @NoLabelsOrg.
Before the chat we will compile a series of questions for you, the independent voter, and for No Labels. We will provide you ample time to ask your own questions as well. The chat will last an hour, but do not feel as though you have to commit a full hour to the chat! Any correspondence will help move the discussion along.
Remember, because it's on Twitter, all responses must be 140 characters or less.
How do you participate? 
The first step is to follow us on Twitter at @IVNetwork. From there, you have two options on how to participate:
(1) TweetChat: I would recommend using the client TweetChat, which allows you securely log-in, enter a hashtag to follow, and then converse in real-time with other participants. We have chosen the hashtag #indyvote, and if you are using TweetChat, each tweet will automatically add the hashtag #indyvote at the end. TweetChat also allows you to pause the chat, making it easier for you to respond to tweets.
(2) Twitter: Sound complicated? You can also just sign in to your Twitter account and enter in the hashtag #indyvote in the search bar at the top right. This will let you follow the conversation without signing into a third party service like TweetChat, but it might have a delay. When you see a question or response you want to "tweet" about, just compose a new tweet and add the hashtag #indyvote at the end. Your tweet will then be part of the conversation!
The Specifics
Date: Thursday, August 9th
Time: 11am - 12pm PST/2pm - 3pm EST
Guest: No Labels Org 
Topic: Independent solutions to hyper-partisanship
Hashtag: #indyvote
Any questions? Feel free to contact us at [email protected], or send us a tweet.