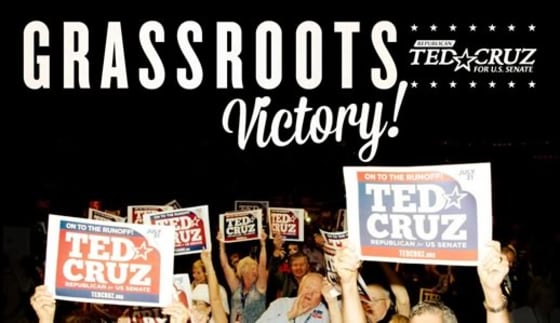 A Tea Party win sent shockwaves to Texans yesterday as Lt Gov. David Dewhurst lost to Tea Party candidate Ted Cruz in the republican primary runoff.  In Texas, to win the primary a candidate must win 50% plus one percent of the vote.  If no candidate reaches the 50%+1 mark, a primary runoff is held 6 weeks later.
The Texas primary was in late May and the runoff primary was yesterday.  Normally, the Texas primary would have been in April but the legislature and courts took too long to approve new districts.  Therefore, the primary was pushed forward to the last Tuesday in May.
First, the turnout yesterday was less than 10% of eligible voters.  That means, of the 12.8 million registered voters, only about 1.1 million voted.  So, to get 50%+1 of the vote, you need to get just over 5% of voters in your party's primary to vote for you. That also means that activists and single issue voters have much more power at the polls, since they actually turn out to vote.  The other 90% of the electorate, who are probably doing the dishes and watching the Olympics, just don't show up.
To top it off, in Texas, independents can vote in the primary by requesting a partisan ballot.  They then become registered with that party through the end of the year.  But, you cannot vote in one party's primary and switch to the other for the primary runoff.  For tea party candidates like Ted Cruz, who boasts the endorsement of Sarah Palin, Rick Santorum, Sean Hannity, Rand Paul, and the Tea Party Express, it was a perfect storm.
But Ted Cruz was not the only candidate to shake up the system.  There were other upsets, including a State Senate race where incumbent seven-term Senator Jeff Wentworth lost his seat to another tea party favorite Donna Campbell.  In Texas, incumbent State Senators don't normally lose.  There are no term limits and sitting State Senators have huge campaign war chests.