Late last week, former two-term governor and Libertarian presidential candidate Gary Johnson passed the one million mark on the social media platform Google+, passing Republican presidential candidate Mitt Romney's 853,378 followers. Since Friday, his following has grown another 11,554, making his total number of Google+ followers 1,011,554.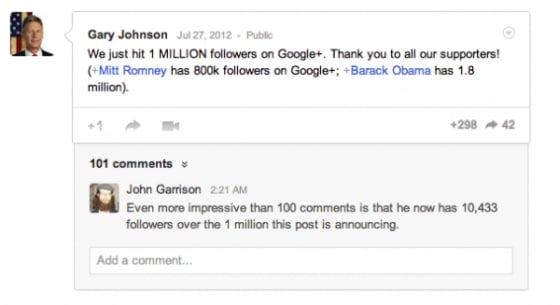 Impressed? So were we. Libertarian Gary Johnson has been climbing the social media ranks not only on Google+, but also on Twitter and Facebook. Running as a third party candidate, Gary Johnson doesn't have the same kind of campaign cash on hand as Mitt Romney or Barack Obama, so he has been using social media to spread his message. Much like Buddy Roemer, his campaign strategy relies heavily on the sharing of information, a strategy made easy through the use of social networks.
He posts regularly on his Google+ and shares campaign videos, articles, events, and pictures. His posts are engaging, some receiving over 300 +1s (equivalent to Facebook's like feature). In the spirit of this week's theme of competition, we'd give Gary Johnson the gold for consistency, engagement, and content being shared on Google+.
See for yourself here.
Are you on Google+? What do you think of the social platform? Do you like it better than Facebook or Twitter?