Credit: newsone.com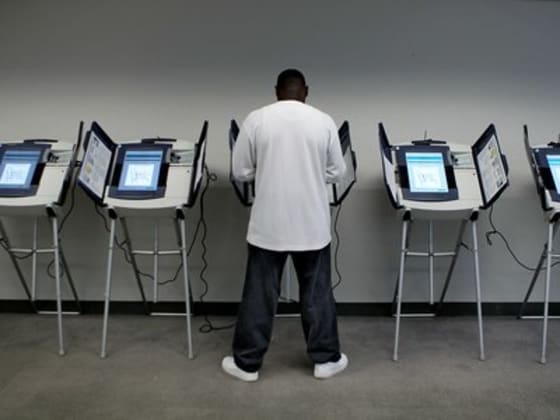 In a 630-page deposition release by prosecutors on Wednesday, former Florida Republican Party chairman Jim Greer alleges GOP leaders were meeting to discuss tactics to suppress black votes in his state. Greer is currently in the middle of a civil case against the party concerning a dispute over his severance agreement.
He is also "facing felony corruption charges and has an interest in scorning his party," according to Salon.
His allegations come on the heels of headline-grabbing efforts to combat voter fraud in Florida by current Gov. Rick Scott. The purging of voter rolls has been criticized by civil rights groups and is under scrutiny from the Justice Department.
The deposition contends such efforts by the Florida GOP are a conscience, planned attempt to allow fewer residents to vote.
"They talked about not letting blacks vote … and minority outreach programs were not fit for the Republican Party," Greer said.
He said "whack-a-dos" from the far right wanted him out as chairman due to his moderate stance.
"The wing of the party that does not agree with Charlie Crist considered me a moderate chairman," Greer said, according to the Associated Press. "As [Florida House Speaker] Dean Cannon said to me one time, the people that want to destroy our Party are trying to take it over."
Former Florida Governor Charlie Crist is now an independent and wrote an editorial for the Washington Post last week:
"Cynical efforts at voter suppression are driven by an un-American desire to exclude as many people and silence as many voices as possible. Our country has never solved anything with less democracy, and we're far better off when more citizens can access the polls — no matter which party mobilizes the most voters to them. As governor of Florida, I extended voting hours and increased the number of days people could vote. I also restored registration rights for felons, years after starting that effort in the state Senate with a member of the opposite party. I was a Republican at the time of those decisions, which didn't make me many friends on my side. But when you do the right thing for the people, a political party's concerns roll off your back quite easily."
The Republican Party of Florida has declined to comment on Greer's claims, citing the ongoing legal case.
As for former Gov. Crist, an ex-Republican himself, his op-ed puts him squarely at odds with his former party over the current efforts in Florida.
"There are lines that should not be crossed; meddling with voting rights is one of them. It is un-American and it is beneath us."