Credit: creativemuslims.com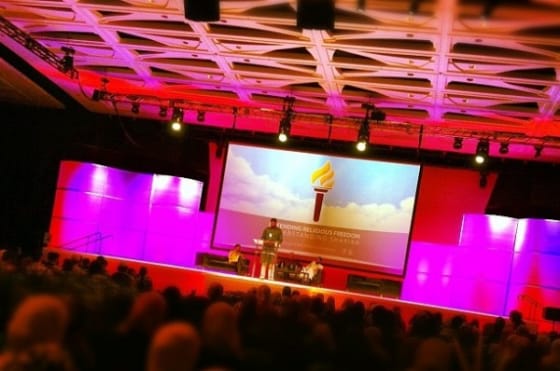 As political polarization becomes stronger and significant, it's important to also look into cultural and religious polarization.  The number of Muslims in America is even a point of contention. 2.6 million Muslims were reported in the United States in 2010, but some estimates are up around 7 million. The following month will mark Ramadan for billions worldwide.
As IVN reported yesterday, Congresswoman Michele Bachmann making headlines with her claims that top Hillary Clinton aid Huma Abedin, has ties to the Muslim Brotherhood. Abedin is Secretary Clinton's Deputy Chief of Staff. Bachmann accused Abedin for having ties to the Muslim Brotherhood through her family and that it poses a national security concern. Bachmann used Clinton's intervention with Tariq Ramadan as evidence for Abedin's influence with the Muslim Brotherhood.
The fear-mongering by Bachmann is reminiscent of McCarthyism. Prominent Republicans such as John McCain, John Boehner, and Marco Rubio have discredited Bachmann's claims. Bachmann refutes the hostility by saying that her letter was distorted in its interpretation, saying it was outlining security concerns. The Huffington Post caught up with McCain and who once again responded, "That's not my interpretation."
, "American views haven't worsened but also haven't gotten much better over the past several years. But the net has improved."
Dalia Mogahed of the Brookings Institute says that
She also goes on to discuss studies that show that those who know little about Islam are likely to show prejudice, more so than those educated or completely un-knowledgeable of Islam.
The Islamic Circle of North America is strong in its campaign for understanding Islam. Their latest convention "Defending Religious Freedom, Understanding Shariah", attracted 16,000 supporters in Hartford, CT. The event was also streamed live over the internet. IVN previously reported on the ICNA's progress in defending religious freedom and understanding Islam.
Just this Wednesday, federal judges ruled in favor of the construction of a mosque in Tennessee. The construction will not be done on time for Ramadan but is a seen as a legal victory for Muslim-Americans. The construction of the mosque was impeded by vandalism and attacks during anti-Muslim protests.
Many expected Islamophobia in America to decrease following the elimination of la-Qauda leader Osama Bin Laden. That is not the case, according to a study led by Dr. Erik Nisbet of Ohio State University. Among the many findings of the study, public blame towards Muslim-Americans for religious tension rose from 21% to 33% after Bin Laden's death. Trustworthiness dropped from 49% to 33% towards Muslim-Americans after Bin Laden's death.
The Gallup Center for Muslim Studies also conducted a survey in 2009 on public opinion towards Islam. Unfavorable and somewhat unfavorable combined for 53% of the responses when asked for their view on Islam.
The United States' foreign wars are winding down in the Middle East and public opinion towards overseas military operations is very low. Rasmussen Reports conducted a poll this month showing that 47% of Americans believe they're winning the War on Terror, down from 51% in 2011.
Islam and extremism are not synonymous. Perhaps the general resentment towards Muslims in America breeds the hostility one might feel from a Muslim-American. Understanding Islam is the key to raising the trustworthiness and decreasing the hostility felt from both sides.