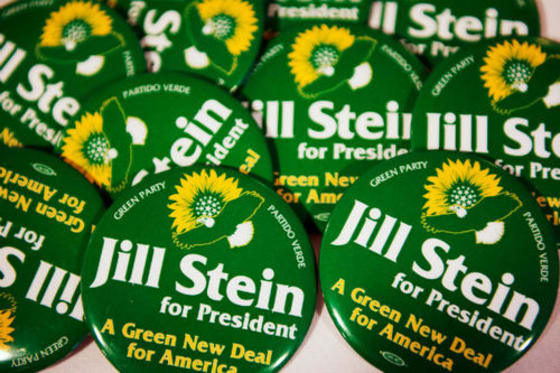 The Green Party of the United States held its Presidential Nominating Convention in Baltimore, Maryland last weekend. The first two days of the conventions had workshops ranging from "Youth Outreach" to "Building Community". Along with the workshops, the Green National Committee held a meeting to hear standing committee reports. The Green Party had international guests from Canada, Germany, and New Zealand, in order to strengthen the international relationship.
Saturday was nomination day. Throughout the day delegates to the convention heard speeches from respected activists, candidates, and Green elected officials. Dane County Board member Leland Pan of Madison, Wisconsin, who is the youngest Green to date elected into office, spoke. Gar Alperovitz, Professor at University of Maryland and former Legislative Director for the US House and Senate was also well-received. When the nomination commenced, 31 states and 3 national caucuses (Black, Women, and Lavender Caucuses) cast their votes to have Dr. Jill Stein of Massachusetts, and Cheri Honkala of Pennsylvania, be the presidential and vice-presidential candidates for the 2012 General Election.
Stein and Honkala will be campaigning around the idea that the United States needs to have a Green New Deal. Inspired by the New Deal program of the 1930s, the Green New Deal will provide for more sustainable communities through financial reform.
The Green New Deal has three parts. First, an Economic Bill of Rights. Second, a Green Transition Program to create a sustainable economy with green technologies and sustainable ways of making things. Third, real financial reform that reboots the financial sector. To know more about the Green New Deal you can visit the campaign website at www.jillstein.org.
The day after the nominating portion of the convention, the Stein campaign held several brief workshops on what the campaign will be doing in the various aspects, such as ballot access, youth outreach, building the national party, and how state parties can get active.
Closing the convention was a call to action led by 2004 presidential candidate, David Cobb. Cobb, Stein, and Honkala expressed their views on what this campaign means for the party. All three individuals expressed that this campaign is the one Greens have been waiting for and will drastically advance the message of the Green Party. They may have been right, as over 67 different media outlets took interest in the convention. From the New Times to C-SPAN to Democracy Now, the campaign generated a veritable media storm.