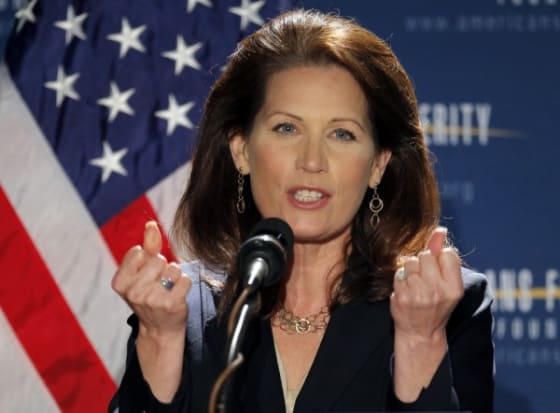 A firestorm of criticism is coming to a head over a letter sent by one-time Republican presidential hopeful Rep. Michele Bachmann and four other GOP lawmakers to various government agencies alleging an elaborate government infiltration by the Muslim Brotherhood organization. One such letter was sent to the State Department's Deputy Inspector General. In the letter, Secretary of State Hilary Clinton's deputy chief of staff and longtime aide, Huma Abiden, is singled out.
Alleging that "her routine access to the Secretary and to policy-making", Bachmann cites Abiden's "late father, her mother, and her brother" as connected to the Muslim Brotherhood.
Politico has a quote from an anonymous GOP colleague:
"This is ridiculous and extraordinarily petty. Clinton is the most pro-Israel member of this administration. Clearly, this is another dumb idea from Michele."
Republican Reps. Trent Franks of Arizona, Rep. Louie Gohmert of Texas, Tom Rooney of Florida, and Lynn Westmoreland of Georgia, also signed the letter.
Sen. John McCain responded on the Senate floor yesterday:
"To say that the accusations made in both documents are not substantiated by the evidence they offer is to be overly polite and diplomatic about it. It is far better, and more accurate, to talk straight: These allegations about Huma, and the report from which they are drawn, are nothing less than an unwarranted and unfounded attack on an honorable woman, a dedicated American, and a loyal public servant. These attacks on Huma have no logic, no basis, and no merit. And they need to stop now."
Rep. Bachmann has yet to back down from the allegations of "a nefarious conspiracy to harm the United States by influencing U.S. foreign policy with her high-level position at the State Department", but further questions are arising as to the source of her information.
At the very least, there is a growing swell of public figures and elected officials on both sides of the aisle denouncing the letter. Today, House Speaker John Boehner called the accusations "pretty dangerous" and Sen. Marco Rubio described Abiden as "a professional and hardworking and patriotic American who loves her country and in the service of her country is serving it."
http://www.youtube.com/watch?v=-IROi6UREjg