Credit: Allison Curran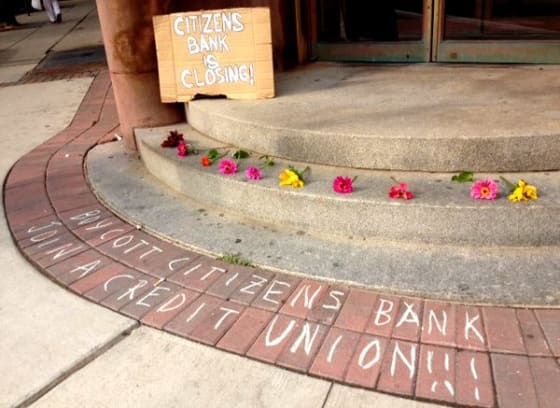 Even though it was Bastille Day in Burlington, VT on Monday, there were no mobs storming the prisons that symbolize state injustice, instead the streets instead were filled with Woody Guthrie songs and protests against a bank that symbolizes state injustice.
Organized by Occupy Vermont, the July 14th event was partly a birthday celebration for Woody Guthrie, who would have been 100 years old if he hadn't died in 1967. Starting out from the Chittenden Emergency Food Shelf, dozens of Guthrie songsters wound their way from that echo of the first Great Depression down to City Park where they sang Guthrie songs for an hour or so, led by local musicians including Rik Palieri and Bill Oetjen, among others.
From there it was on to the local branch of Citizens Bank, based in Rhode Island but owned by the Royal Bank of Scotland and a target of Occupy Vermont as "Burlington's most Bailed-out Bank," long a target of public wrath and the site of weekly protest for several months.
The Guthrie music ensemble of banjo, tuba, accordion, trumpet, and two guitars wrapped its bank-front set with Guthrie's classic, "This Land Is Your Land" next to a sign decrying "Sub-Prime Democracy" while a sign on the bank's door promised a "Great Rate."
Summing up on Occupy Vermont's Facebook page, Jonathan Leavitt wrote: "Still agog at just how incredible yesterday was.  The song filled march from the emergency food shelf took over one of Burlington's main avenues and ended on the steps of the most bailed out bank in town.  This joyous spectacle even managed to close down the most bailed out bank in town a couple of minutes early."
Citizens Bank has been a Burlington target since early 2008, when people objected to the bank's getting $3.3 billion as part of the AIG bailout.  Protest grew as the bank, which is largely owned by the British government, took in $84.5 billion from the US government and another $62.4 billion from Great Britain.
Bloomberg says nearly half of the top 30 borrowers who took money from the Fed were European banks, with the biggest loan being $84.5 billion to Royal Bank of Scotland. RBS has owned Providence-based Citizens since 1988. The company is still part-owned by the British government after getting bailed out in 2008-09.
In early 2008, reacting to this highly selective charity for a wealthy corporation, Matthew Cropp helped lead an effort to persuade customers to move their accounts from Citizens Bank to a credit union, long before this became a national or global call.
With the emergence of the Occupy movement in late 2011, Citizens Bank was a natural target for hundreds of demonstrators who chanted, "Banks got bailed out, we got sold out" and other complaints.
Earlier this year, Citizens Bank agreed to pay $137.5 million to settle a class action lawsuit that alleged bank cheating on customer fees. This amounts to less than one tenth of one percent of Citizens Bank's bailout of $146.9 billion or more.
Citizens Bank has adopted a low profile, non-response tactic for dealing with these protests, and July 14 was no exception, even if they did close-up a few minutes early before "This Land Is Your Land" finished.  Guthrie wrote "This Land" in 1940 as a direct response to Kate Smith's "God Bless America," which he considered a strident, jingoistic, complacent, tub-thumping anthem to American exceptionalism wholly unjustified in the midst of the suffering he'd seen in the Dust Bowl, in California labor camps, in Hoovervilles and bread lines, or in official violence directed at labor organizers.
Notably absent from the Bastille Day festivities were newly-elected Burlington Mayor Miro Weinberber or city councilors or other titular leaders. Weinberger is on record as having "sympathy" for the goals of Occupy and other protestors, but has not actually done anything to help achieve any of those goals.  On the contrary, he supported an effort to enact more regulations on public assembly.