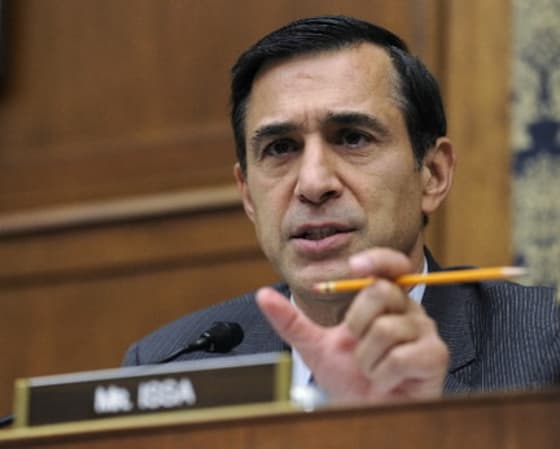 The Citizens for Responsibility and Ethics in Washington (CREW) filed multiple complaints today against House Oversight Committee Chairman Rep. Darrell Issa, alleging he violated federal law "by including material from a sealed wiretap application in the Congressional Record."
CREW contends while pursuing the House Oversight Committee's investigation into Fast and Furious and holding Attorney General Eric Holder in contempt for failing to provide documents, Rep. Issa himself illegally disclosed documents.
"It is ironic that by revealing the warrant application to further his effort to have Attorney General Eric Holder held in contempt, Rep. Issa was willing to flirt with his own potential contempt charge," said CREW Executive Director Melanie Sloan in a statement.
"Rather than releasing the warrant application to the media directly, which would clearly have been prosecutable, Rep. Issa inserted the information into the Congressional Record. This way, he shielded his otherwise illegal conduct behind the Speech or Debate Clause of the Constitution," the statement continued. "Evidence also suggests Rep. Issa or his staff may have directed reporters to the Congressional Record to ensure the information contained in the leaked warrant application was discovered and further publicized."
The complaints filed by CREW assert Rep. Issa should be held accountable in the same way Rep. James McDermott was investigated by Republicans for similar charges in 2007.
"No member of Congress should be permitted to avoid accountability for deliberately violating federal law by cloaking himself in the Constitution."
Up until recently, CREW was affiliated with The Democracy Alliance, a network of progressive and Democratic donors. At the end of February, the Huffington Post reported the Democracy Alliance was dropping some organizations, including CREW, in favor of refocusing their progressive efforts.