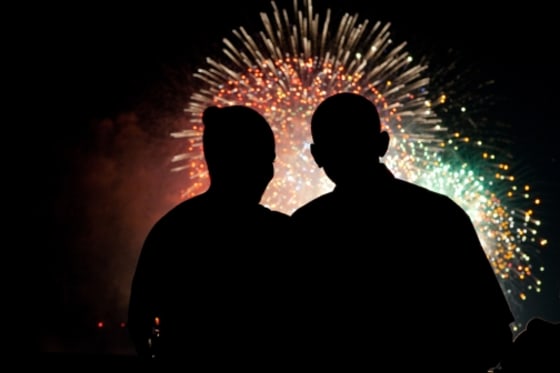 Today, most Americans are celebrating the Fourth of July, our nation's Independence Day. For many it means family, friends, fireworks, delicious barbeque treats and a medley of making everything possible red white and blue. Its also means freedom, patriotism and pride--a perfect American cocktail for campaigning. So what do our hopeful leaders have planned for July 4th?
Republican nominee hopeful, Mitt Romney, will be taking the entire week off for an annual family reunion at his New Hampshire vacation home. Part of this reunion includes the "Romney Olympics", where the 30-something members of the family clan compete in swimming, running and, fittingly enough, who can hang on a pole for the longest. Gov. Romney will squeeze just a little campaigning into the weekend however, by marching in the local Wolfeboro, New Hampshire Fourth of July parade.
Gov. Romney isn't the only one working politics into this holiday weekend. Candidates Ron Paul and Gary Johnson will be marching in parades and holding parties of their own. Gov. Johnson will be hosting a BBQ at Historic Langford Park in Orlando, Florida on July 4th, starting at 2:00 pm. The event is on Facebook and Johnson says, "I would enjoy having you and your family come celebrate Independence Day with me. I hope to meet and converse with all of you."
Dr. Paul has posted an update on his website proclaiming his participation in a parade in his district. He then went on to say "but after that I want to take a little bit time off and spend some time at a family barbeque and at home. And I know a lot of you will those same types of festivities on this particular day."
President Barack Obama will be spending his Fourth of July at home, after a weekend at Camp David with his family. The president is hosting a picnic on the White House's South Lawn and is in honor of military families and his administration staff and their families. It is also Maliah Obama's birthday. Thursday, President  Obama leaves for a two-day swing state bus tour.
Also noteworthy: former President George W. Bush will be spending the holiday volunteering in a cancer clinic in Kawbe, Zambia. There has been no press release regarding the subject but Andrew Kaczynski of BuzzFeed had this photo on Twitter: