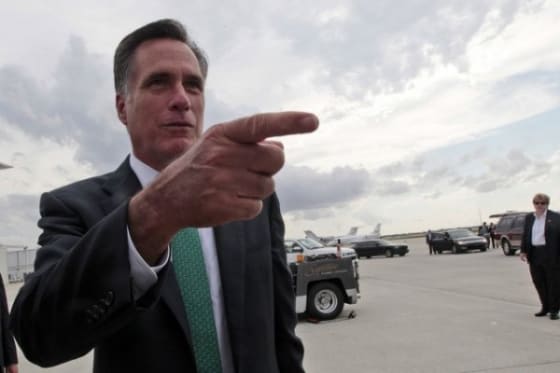 Presumptive Republican presidential nominee, Mitt Romney, has yet to announce the selection of his vice president candidate. Such an announcement is not expected before the Republican National Convention. Yet that doesn't keep plenty of political observers from discussing and speculating who the eventual nominee will be. Washington Post's The Fix and Google have recently teamed up to track news mentions, search trends and YouTube video views for 10 of the most frequently mentioned potential candidates in the Republican Veepstakes.
Here is some vital information to know about the most closely watched potential Republican Vice Presidential nominees:
Name: Sen. Rob Portman
Age: 56
State: Ohio
Current Position: Junior Senator, Ohio
Previous Position: Congressman, United States Trade Representative, Director of the Office of Management and Budget
Notable for: In 2008, Portman was considered a potential running mate for Republican presidential candidate John McCain and is an ardent supporter of anti-abortion policy.
Quote: "I'm a beer drinker and I'm particularly upset by the fact there is no big U.S. beer company any more."
Veep Odds: 4:1
Age: 51
State: Minnesota
Current Position: Governor of Minnesota (2003-2011)
Previous Position: Congressman
Notable for: Pawlenty was considered for the presidential candidacy for both 2008 and 2012. The former governor is greatly conservative on the American Political Spectrum.
Quote: "It appears that President Obama is making great progress on climate change, he is changing the political climate in the country back to Republican."
Veep Odds: 5:1
Name: Rep. Paul Ryan
Age: 42
State: Wisconsin
Current Position: Congressman
Previous Position: Legislative aide; consultant
Notable for: Ryan has been ranked among the Republican Party's most influential voices on economic policy.
Quote: "I don't consult polls to tell me what my principles are or what our policies should be."
VP Odds: 12:1
Name: Sen. Marco Rubio
Age: 41
State: Florida
Current Position: Junior Senator of Florida
Previous Position: Congressman
Notable for: Rubio is a major, public figure for America's Tea Party Movement. He is fervently conservative when it comes to social issues such as abortion and same-sex marriage.
Quote: "Americans believe with all their heart, the vast majority of them, and the vast majority of Floridians, that the United States of America is simply the single greatest nation in all of human history."
VP Odds: 7:1
Name: Gov. Bobby Jindal
Age: 41
State: Louiana
Current Position: Governor of Lousiana
Previous Position: Congressman
Notable for: Bobby Jindal was born in America, but his parents first moved to the United States, from Punjab, India, six months prior to his birth. Jindal studied at New College, Oxford as a Rhodes scholar.
Quote: "As we embrace the American dream and the freedoms it represents, we must also ensure that those who wish to enjoy those freedoms become a part of our society and learn to speak our language."
VP Odds: 17:1
Name: Sen. Kelly Ayotte
Age: 43
State: New Hampshire
Current Position: Junior Senator of New Hampshire
Previous Position: Attorney General of New Hampshire
Notable for: Kelly Ayotte was the first woman to serve as Attorney General in New Hampshire. She helped her husband launch a landscaping and snow-removal company.
Quote: "Most importantly, there is one person who I know will ensure that Barack Obama is a one-term president, and that is Mitt Romney."
VP Odds: 65:1
Name: Sen. John Thune
Age: 51
State: South Dakota
Current Position: Junior Senator for South Dakota
Previous Position: Congressman
Notable for: John Thune was considered a potential VP candidate for McCain in 2008. He was also rumored to be a presidential candidate for the 2012 election. Thune is a committed Evangelical Christian and a member of The Family, a secretive controversial tax-exempt, quasi-religious and international political influence group, also known as The Fellowship.
Quote: "I believe our flag is more than just cloth and ink. It is a universally recognized symbol that stands for liberty, and freedom. It is the history of our nation, and it's marked by the blood of those who died defending it."
VP Odds: 13:1
Name: Gov. Chris Christie
Age: 49
State: New Jersey
Current Position: Governor of New Jersey
Previous Position: United States Attorney for the District of New Jersey
Notable for: Chris Christie was the first Republican to win a statewide election in New Jersey in twelve years. Christie is best known for his combative style as the Republican governor of the traditionally Democratic New Jersey.
Quote: "I've always said there is a boulevard that exists between compromising your principles and getting everything you want. Now, we should never compromise our principles. And I never have. Those are the things that people vote for you on, that's the core of who you are. But there's always a boulevard between that and getting everything you want."
VP Odds: 18:1
Name: Gov. Bob McDonnell
Age: 58
State: Virginia
Current Position: Governor of Virginia
Previous Position: Attorney General of Virginia, Member of the Virginia House of Delegates, Former lieutenant colonel of the US army
Notable for: Virginia Governor Bob McDonnell endorsed Mitt Romney early on, before the race started to take shape. However, McDonnell's decision to reinstate Confederate History Month without acknowledging slavery — an omission he later rectified — is being seen as a potentially career-threatening misstep, especially in regard to potential VP candidacy.
Quote: "The proclamation issued by this Office designating April as Confederate History Month contained a major omission. The failure to include any reference to slavery was a mistake, and for that I apologize to any fellow Virginian who has been offended or disappointed."
VP Odds: 28:1
Name: Gov. Luis Fortuno
Age: 51
State: Puerto Rico Territory
Current Position: Governor of the Commonwealth of Puerto Rico and President of the New Progressive Party of Puerto Rico
Previous Position: Resident Commissioner of Puerto Rico
Notable for: Fortuno avidly supports the movement for Puerto Rico to gain statehood.
Quote: "We have been part of the United States since 1898; natural-born citizens since 1917. Our men and women have served in greater numbers than most states since then. And I believe that it's the right thing to do in the 21st century, to allow almost 4 million American citizens to express our will and then to work with the White House and hopefully President Romney to address this issue."
VP Odds: 499:1
The odds for several of these politicians are slimmer than others in terms of being named as a running mate. However, recalling the 2008 GOP convention, John McCain surprised Americans with his choice of Sarah Palin as his VP candidate. Given the outcome of 2008, we can guess Romney's campaign will be ultra careful and strategic with their choice. As such, it's anyone's guess who Romney will ultimately choose.