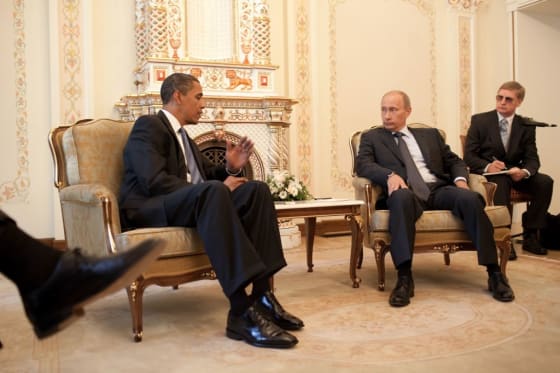 President Obama met with Russian President Vladimir Putin today in Los Cabos, Mexico for nearly two hours in a highly-anticipated sideline meeting during the G-20 summit meeting. The heads of state were expected to discuss important regional and international issues currently straining relations between the two superpowers. In addition, both are attending the two-day G-20 gathering, an annual conference of the 20 countries with largest and most powerful economies.
While the conference itself will be focusing primarily on the recent Greek election and the euro zone crisis, Putin and Obama's sideline meeting touched on several points of interest for the two countries, including the ongoing conflict in Syria.
Syria is currently in the midst of a civil war after rebels began protesting against President Bashar al-Assad for taking 10-14 year old's as prisoners for spray painting anti-regime graffiti. The protests quickly turned violent following the Assad forces' response and reports now show "more than 12,000 people have lost their lives since March 2011, hundreds of Syrians are imprisoned in degrading conditions, and tens of thousands have fled to neighboring countries such as Lebanon and Jordan."
Today's meeting is the first face-to-face conversation President Putin and President Obama have had since Putin's controversial ascent, once again, to head of state in Russia. When President Obama originally took office in 2008, he prioritized US-Russian relations, hoping to become friendly with the foreign leader.
After a solid start with former Russian president Dmitry Medvedev, the relationship has fizzled and tensions have risen since Putin's reelection. In an almost tit-for-tat passive-aggressive relationship, both sides have produced annoyances and slights for their counterpart.
President Obama intentionally refused to call Putin after his presidential victory, normally a routine between the two countries. Putin then pointedly refrained from taking part in the G-8 session held earlier this spring at Camp David and hosted by President Obama.
Russia also vetoed and blocked two U.N. Security Council resolutions pertaining to Syria. Secretary of State Hillary Clinton announced recently Russia continues to send arms into Syria and Putin has name-checked Secretary Clinton as responsible for continued protests in Moscow.
President Putin's opposing desires for the Middle East is not the only thing that keeps the relationship between Russia and the United States frosty. As most would recall, Putin was President from 1999 to 2008, after which he symbolically stepped aside but remained very influential as prime minister. He ran again in 2012, his victory sparking massive protests in the Russian capitol. He is known for "the rigging of elections, his crackdown on Moscow's protesters and his new Nyet posture," nyet being the Russian word for no. He is also seen as being the main force behind Russia's refusal to halt weapons supplies to Syrian leader, President Bashar al-Assad.
Many argue that Russia helped President Obama in his first term, and that he needs Moscow now more than ever. The situation in Syria needs addressing, not only for President Obama's sake on an international level, but on national level too. He cannot afford this election cycle to have another military intervention on his hands. While some argue President Obama needs Russia to solve the Syrian crisis, many also argue this alone wont sever ties with Russia. There are many things the West can do to entice President Putin, The Economist points out a few, such as introducing reasonable visa rules for Russian businesspeople, doing away with "other cold-war relics", such as America's Jackson-Vanik trade restrictions, and offering the prospect of Russian membership of the OECD, or even a free-trade agreement with the European Union.
Whatever the ultimate outcome of today's meeting, the United States government should not excuse Putin's autocracy and President Obama needs to be tough on Russia's appalling human rights, both at home and in their complicit approval of Syria's actions. Whether the fragile nature of international diplomacy will see this take place, is another story. Today's meeting produced a joint statement and included the follow statements concerning Syria:
In order to stop the bloodshed in Syria, we call for an immediate cessation of all violence and express full support for the efforts of UN/League of Arab States Joint Special Envoy Kofi Annan, including moving forward on political transition to a democratic, pluralistic political system that would be implemented by the Syrians themselves in the framework of Syria's sovereignty, independence, unity, and territorial integrity.  We are united in the belief that the Syrian people should have the opportunity to independently and democratically choose their own future.