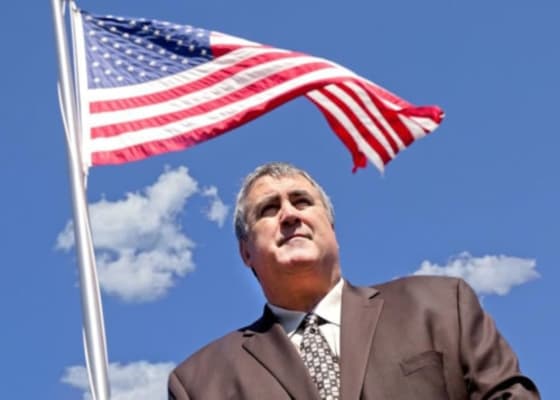 An independent candidate in the race to fill Sen. Olympia Snowe's seat in Maine is proposing what he is calling the "Maine First" agreement, according to a statement. Both former Maine Gov. Angus King and Woods, Chairman of the Yarmouth Town Council, are running as independents. Woods' proposal contends that neither candidate will play the "spoiler" in November.
"During our last gubernatorial election here in Maine, many voters (61%) felt/feel as though a fragmented voting bloc allowed a non-majority candidate to win the election with less than a mandate," Woods said in a statement.
"The same charge was made in the 2000 Presidential election when it was suggested that Ralph Nader siphoned too many votes from Al Gore, causing him to lose Florida – and swinging the national election."
According to Woods, the mutual agreement states if either candidate trails the other by 10 points leading into the November election, they would resign from the race by October 30th and endorse the remaining independent.
"How could Americans believe Hilary Clinton's "endorsement" of Barack Obama in 2008 after months and months of her brutal political and personal attacks? Same goes for Newt Gingrich now showing the proverbial love towards Mitt Romney after tearing him to shreds in the media for more than a year," said Woods.
"How can these political leaders express vile hatred towards each on a Monday and then after losing a political race a day later, stare into the eyes of the American voter and profess great admiration for the other candidate?"
Instead, Woods has chosen to endorse King in an effort to promote respectful campaign dialogue.
Many view King as a favorite to win in November. Ten candidates competed in Maine's primary election on Tuesday. Mark Brewer, political science professor at the University of Maine, told Real Clear Politics, "For any of these candidates to knock him off is going to take a monumental effort."
Woods cites the disingenuous nature of partisan politics as the motivation behind the "Maine First" proposal and his endorsement of a competing independent.
"I like and respect Angus King today in June. It's my belief that I will continue to like and respect him the day after the election on November 7th, win or lose. Why not be honest now?"