In an election that will most likely come down to the economy, Gallup reports that the majority of Americans still blame Obama's predecessor, George W. Bush, for the bad economy.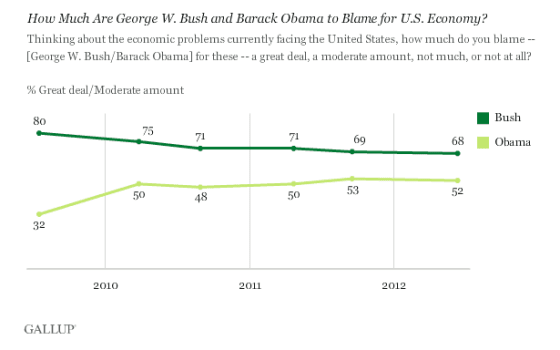 The findings show no more Americans blame President Obama for the bad economy since last September. Around half of Republicans still blame President Bush, compared to ninety percent of Democrats.
According to the poll, fewer independents blame President Obama now (51%) than last September (60%).
While this maybe encouraging news for Obama's reelection team, there are still over 50% of Americans who blame the president. Obama's strategy? Defect blame from the president. Romney's strategy? Blame the president. The opposing strategies will come head to head today, when both President Obama and presumed rival Mitt Romney make dueling speeches on the state of the economy.
We'll be following the speeches, so stay tuned for updates throughout the day!