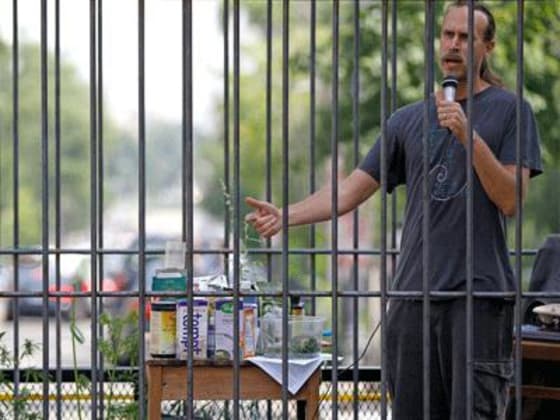 The War on Drugs symbolically made it to President Obama's doorstep today, as David Bronner, CEO of Dr. Bronner's Magic Soaps, was arrested after locking himself and twelve hemp plants in a steel cage in front of the White House. The businessman was protesting policies preventing the cultivation of industrial hemp plants.
In addition to wagering a "beer bet" with President Obama, Bronner had planned to press fresh hemp oil on hemp bread and serve it to the public. His protest was cut short after his peaceful arrest, when police used a chainsaw to open the steel enclosure.
"Industrial hemp is an agricultural crop grown on large farms in Canada, Europe, and China, which all prohibit marijuana cultivation and their police have no problem distinguishing agricultural hemp," says Bronner in a statement.
"Farmers in other countries are laughing all the way to the bank as the US is the biggest market on the planet for healthy hemp seed and fiber products with retail sales in 2011 of over $400 million. The US government should get out of the way and allow American farmers and producers to cultivate and capitalize on hemp's many product applications and markets."
Senator Ron Wyden introduced an amendment to the Senate's Farm reauthorization bill last week that adds clarification language to define industrial hemp as an agricultural crop. Senator Rand Paul co-sponsored the amendment.
"Industrial hemp is used in many healthy and sustainable consumer products," said Sen. Wyden in a statement. "However, the federal prohibition on growing industrial hemp has forced companies to needlessly import raw materials from other countries."
Wyden's amendment is the first time since the 1950's language addressing the issue of hemp has made it into legislation on Capitol Hill.
Hemp is not legal to cultivate under federal law. A few states, like North Dakota and Vermont, have made industrial hemp legal, yet do not grow the plant due to resistance from the Drug Enforcement Administration.