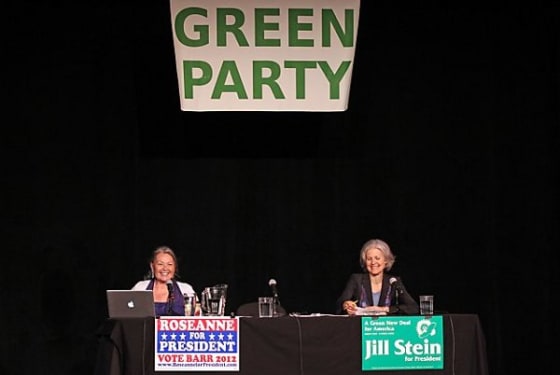 Jill Stein is heavily favored to win the Green Party nomination for president. However, Roseanne Barr, famous for her 1980's sitcom "Roseanne," is also a candidate and her name recognition is bringing much needed attention and media focus to the race. This highlights a continuing problem that third parties and independents have. How do you get media attention and create buzz? Having a well-known actress like Roseanne Barr as a candidate certainly helps.
Green Party voter registration has been dropping for several years. Registration peaked during the presidential runs of Ralph Nader, another big name, in 2000 and 2004. In addition, the GP is troubled by byzantine rules for presidential nominees as well as by, at least in California, savage infighting. All of this distracts the GP from focusing on its core 10 Key Values which include grassroots democracy, social and economic justice, feminism, ecological wisdom, sustainability, non-violence and opposition to militarism. These are values many might agree with, at least in part, but many don't even know they exist.
Kent Mesplay is also running as a Green Party candidate for president. His campaign is an example of how overly complicated GP rules can be. Mesplay will be on the ballot in the June 5th California primary but is not officially recognized as a candidate by the national party and doesn't appear on the GP national website. Only Stein and Barr are official candidates. This is puzzling since the GP National Party is chronically short on money and volunteers and thus in no position to aid candidates. This is not meant as criticism but more a simple fact. Third parties and independents face continuing huge challenges in funding and mobilizing for candidates. Plus, as a matter of admirable principle, the Green Party takes no corporate contributions, a stance that does hurt funding.
The Green Party presidential debate last week in San Francisco was more of a joining together than a traditional debate. Roseanne Barr and Jill Stein agreed on most everything. (Kent Mesplay had a commitment with Native American elders and could not attend.) As mentioned, Stein, a Harvard-trained physician, environmental health expert, and author of several books is the overwhelming favorite and will be a highly credible candidate. Barr and Stein agreed on issue like single-payer health care, forgiveness of student debt, opposition to the Keystone XL pipeline and fracking, legalizing and taxing marijuana, and creation of new jobs through federal investment in clean tech.
Barr was controversial a few years back due to her radio show on Los Angeles radio station KPFK, a Pacifica affiliate, as some thought she focused far too much on conspiracy theories. She did not speak on those topics at the debate. Instead she encouraged Democrats to at least register as Greens, so as to shock the Democratic Party, even if they do vote for Obama. California now has open primaries so registered Greens can vote for Obama in the primary, should they choose to.
Roseanne Barr is to be congratulated for playing this campaign straight and for bringing it welcome visibility. She isn't really running against Jill Stein and will certainly support Stein in the general election.
"A lot of people have been afraid to stand up as Greens" because of "a fear campaign that has been drummed into the American people" since 2000, Stein said. "What has come of this politics of fear? The politics of fear has brought us everything we were afraid of. Silence is not an effective political strategy."
This is true for all third parties and independents, not just the Green Party.