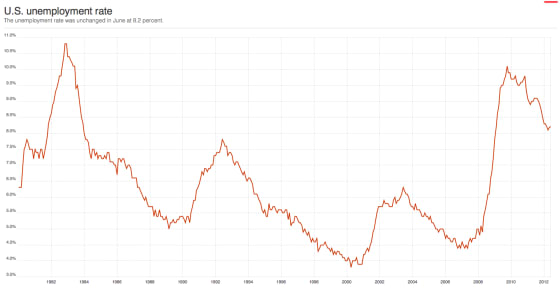 Jobseekers might consider moving to fly-over states instead of perhaps making dismissive comments about them while on transcontinental flights. With a few exceptions, the lowest unemployment rates are in the heartland. Those looking for jobs there should also get ready for living in the country because the bulk of such jobs are in rural and exurban areas.
This certainly is the opposite of the commonly accepted knowledge that big coastal cities are the primary drivers of employment and job growth. While it's true that Silicon Valley is currently booming, many other urban areas on the coasts aren't. Meanwhile, North Dakota has the lowest unemployment rate of any state at a mere 3.1%, followed by Nebraska with 4.0% and South Dakota at 4.3%. Also in the heartland and in the top ten are Iowa, Wyoming, Minnesota, Utah, and Oklahoma.
While comparisons can be tricky, these states have several characteristics in common. They are heavily agricultural and have large rural areas. Regardless of what the economy is doing, people still need to eat. Also, they were less damaged by the real estate crash because home prices didn't skyrocket as much. Thus, there was less carnage when everything cratered. These states also tend to have lower tax taxes than the norm and a lower cost of living.
But another factor, and this will make environmentalist's heads explode, is these states are booming because of huge amounts of natural gas and oil drilling, including fracking and shale oil. Some parts of Wyoming and North Dakota are practically throwing money at anyone who wants to work 60 hours a week in oil production. Sure, it's dirty, dangerous work, but it pays well and the overtime is awesome. Some might opine this beats going to college and going $50,000 in debt. But if you go to North Dakota, bring your own trailer to sleep in because some towns literally have no available housing.
Also in the top ten states with lowest unemployment are Virginia, Vermont, and New Hampshire. Virginia is next door to Washington DC and the federal government is hiring. Thus, many Virginia jobs are probably related to the government. Vermont and New Hampshire have substantial employment in agriculture, particularly dairy, and get substantial revenue from tourism too.
All of this might help those looking for jobs. Maybe you don't have to be in a major metro area to find work.