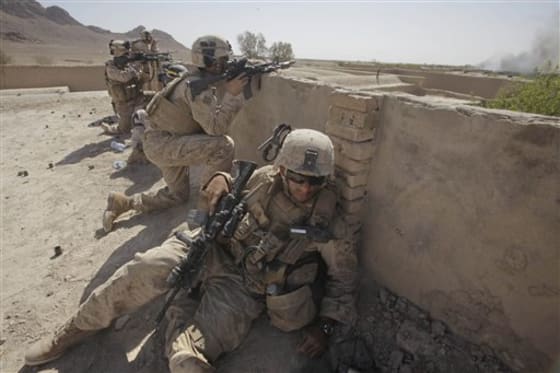 On Wednesday, the United Nations released unsettling statistics on the soaring violence in Afghanistan. Comparing the number of attacks month to month with last year's statistics, there has been a 39 percent increase in violence. Keep in mind that 2010 was far and away the worse year for violence since Operation Enduring Freedom began in 2001. The UN report notes that the area around Kandahar remains a prime target for conflict.
The report raises doubts about NATO's projected wrap-up date of 2014 for operations in Afghanistan. It has been reported that U.S. officials are in secret talks to extend that date to 2024.  So far this month, 31 U.S. soldiers have lost their lives in combat in Afghanistan. The war theater there has consumed over $2.2 billion this past week alone. In all, the wars in Iraq and Afghanistan have cost the American taxpayer upwards of $1.26 trillion.
To intensify matters, the drumbeat for war with Pakistan grows louder as Admiral Mike Mullen told lawmakers last week that Pakistan's intelligence service was colluding with the Haqqani insurgent group. He pointed to the recent prolonged attack on the US Embassy in Kabul as evidence. However, Pentagon officials speaking on condition of anonymity told the Washington Post that Mullen's claims were "inaccurate" and "overstate the case".  One senior official told the Post that:
     "The Pakistani government has been dealing with Haqqani for a long time and still sees strategic value in guiding Haqqani and using them for their purposes, but it's not in their interest to inflame us in a way that an attack on a [U.S.] compound would do."
A senior aide to Mullen, Capt. John Kirby, said the accusations were meant to put pressure on the Pakistanis to cut ties with the Haqqani network and end the alleged proxy war.
In Libya, NTC rebels have reportedly failed once more in their attempt to overtake Gadhafi's besieged hometown of Sirte. The offensive promises to last for the foreseeable future. Thousands of residents have been blocked in their attempts to flee, while doctors in the city say there are food, water and basic medicine shortages.
In Syria, Army defectors were apparently the target of security force aggression in al Rastan on Wednesday as tanks and helicopters shelled the city, which lies in the same province of the flashpoint city of Homs, a source inside al Rastan told the German Press Agency (DPA). At least eight people, including four of the defectors have died in the attacks, which are in their fourth day. Witnesses claim Assad regime troops have overrun the southern part of the city looking for deserters who wish to form a "Free Syrian Army" in order to start a civil war.