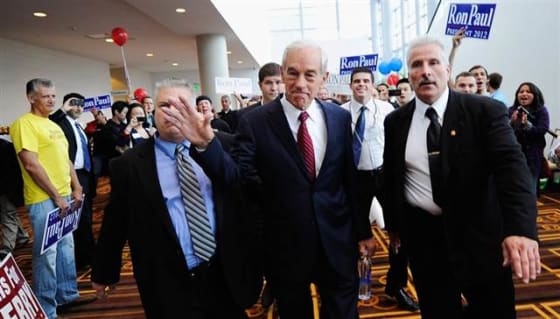 As media-christened "frontrunners" Gov. Rick Perry and Mitt Romney went missing from the California Republican Party's Fall convention, Texas Congressman Ron Paul seized the day by capturing another straw poll.  As announced by Tom Del Beccaro, chairman of the California Republican Party (CRP), Congressman Paul won 44.9% of the vote with 374 ballots cast for him. Texas Governor Rick Perry came in a distant second by winning 29.3% of the vote and with 244 ballots cast in his favor. Former Governor Mitt Romney took the third spot with 8.8% of the vote and with 74 ballots in his favor. A total of 833 votes were cast when they were tallied after the 5pm voting deadline on Saturday.
CRP members, associate members, and registered guests were allowed to choose their favorite candidates from a field of 11. In addition, those participating in the poll were required to present a valid ID card. Interestingly enough, the California Republican Party offered a write-in opportunity on this year's ballot.
According to Politico's coverage, Gov. Perry's supporters at the convention largely dismissed Paul's win. Americans for Perry strategist Bob Schuman, whose group was largely outnumbered by Paul supporters, told Politico that the Paul camp had brought busloads of people to vote. At the same time, he admitted that the college and Young Republicans pulling for Perry did no real organizing to have a large representation this weekend.  While the Perry camp disputed the Paul camp's claim of only purchasing 100 tickets for supporters to attend, Perry's outright snubbing of the California Republican officials could add to the barrier that he already faces in reaching Independent voters.
Here's why. The Texas governor missed a key opportunity to articulate to the moderate Republican attendees how the GOP can reach out to the growing Independent electorate-- both state and nationwide.  Despite Perry's previous claim that he can win over some of California's Independents and some Democrats, he's opted instead to aim his resources at some of California's wealthier donors. Mitt Romney, while not stating explicitly that he can reach California's Independent demographic, has opted to take a similar fundraising route as Perry.  With Independents abandoning President Obama at an increasing rate, Perry and Romney give the impression that they're only interested in continuing partisan-fueled politics and relying almost exclusively on wealthy supporters to fill their coffers.
Having attended this year's convention, I would argue that it was Paul who offered the GOP a genuine alternative. In a convention address to the Republican Liberty Caucus, Paul offered a novel message that could reach across partisan lines. Besides putting forth his typical, limited government message on domestic policy, the Texas Congressman said that he can unite all political stripes on the issue of getting the United States out of wars which he believes have no Constitutional grounding.
     "It's not only conservative Republicans, it's not only libertarian Republicans, it's not only the Independents who have been disgusted with politics for a long time. But there are some good decent progressives, the ones who are honest, and not the demagogues who believe that a different foreign policy would be good and are with us on this," he told the packed room.
Paul reiterated the same message of returning the federal government to the confines of the Constitution in a formal meeting with Republican leaders and a few press reporters (of which I was one) a short time before speaking to the large crowd at the J.W. Marriott in Los Angeles.
A recent Field poll indicated that the Golden State as a whole does not receive any of the Republican candidates with open arms. Within the Republican party itself, registrants prefer Perry and Romney over Paul. If and how this dynamic will change is something for all eyes to be watching closely after this weekend's convention.